*This post contains affiliate links*
My friend, Kelsey, found a steal on a bedroom set at a local re-sell shop in our town.  While she was in the store, she sent me a message saying something like, "Hey, there's a cool, old bedroom set here that is all curvy and neat looking.  I think it could work in my daughter's room.  I'm going to buy it and bring it to you to paint."  So, of course I said bring it on over!  Her husband brought it to me that afternoon, and when I saw the trailer pull up I knew instantly that it was a Dixie set.  I sent Kelsey a congratulatory message on her score!  She isn't furniture obsessed like I am.  She had no idea that what she had was an awesome find!!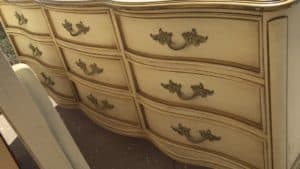 So yeah, she found a Dixie French Provincial bedroom set!  Kelsey knew she wanted me to paint it in mint for her daughter's room.  We chose Still Tidewater from Olympic.  I had Sherwin Williams color match it and mix it in their Industrial Enamel high gloss.  Before any of the fun stuff though, all of these curves needed cleaning, sanding and priming.
First up, I mixed a strong solution of TSP and hot water and gave her a good scrubbing.  There's decades of nasty in those grooves.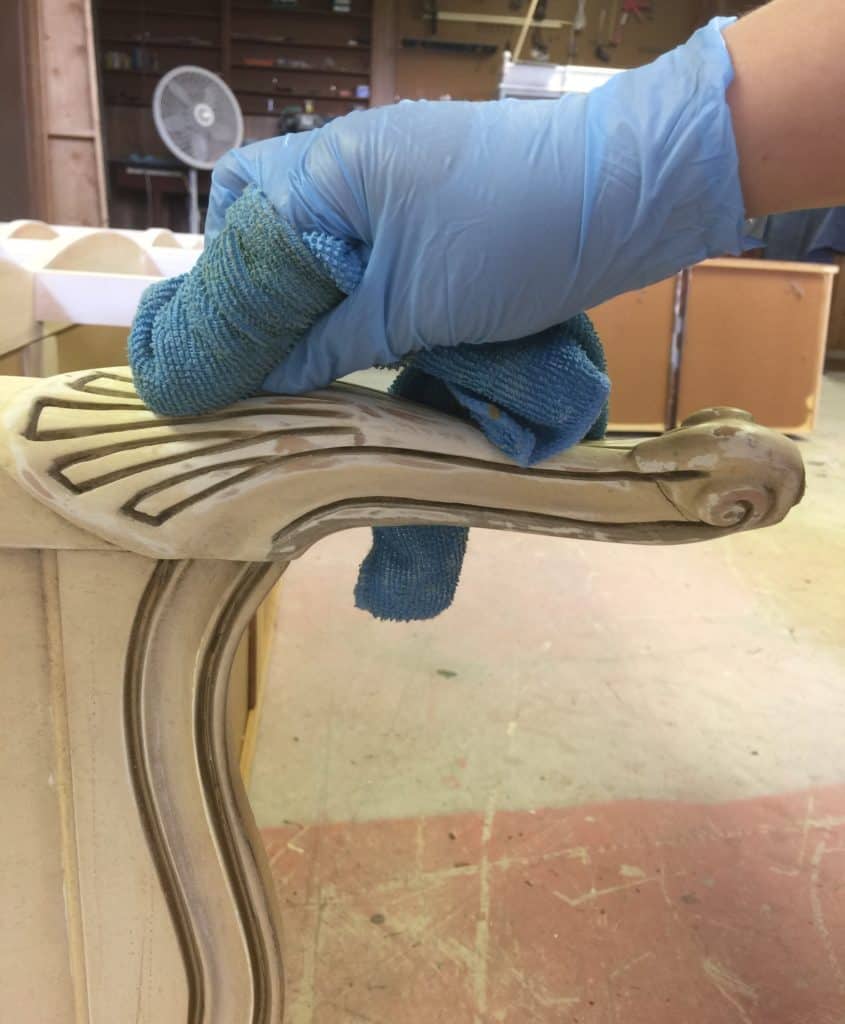 After she got a good scrubbing, I filled her dents and dings with my favorite, Bondo Glazing Putty.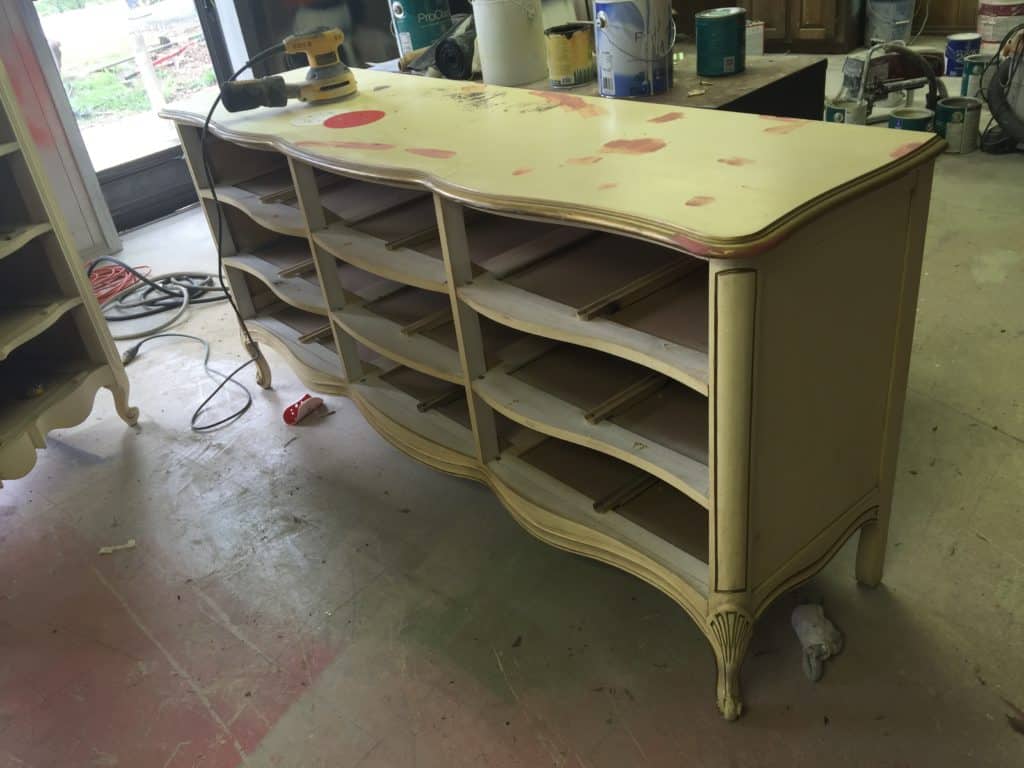 After filling came sanding.  I used my electric orbital sander with 220 grit sanding disc for the surfaces the sander would easily maneuver on and did all of the drawers and curves by hand with this awesome sanding sponge.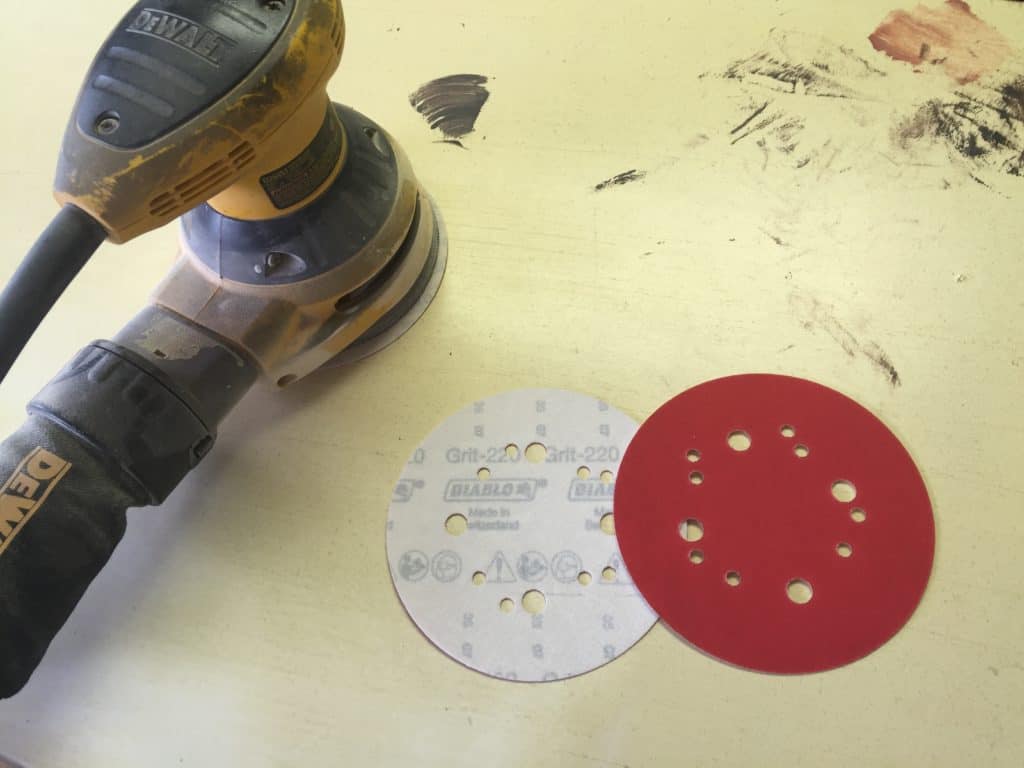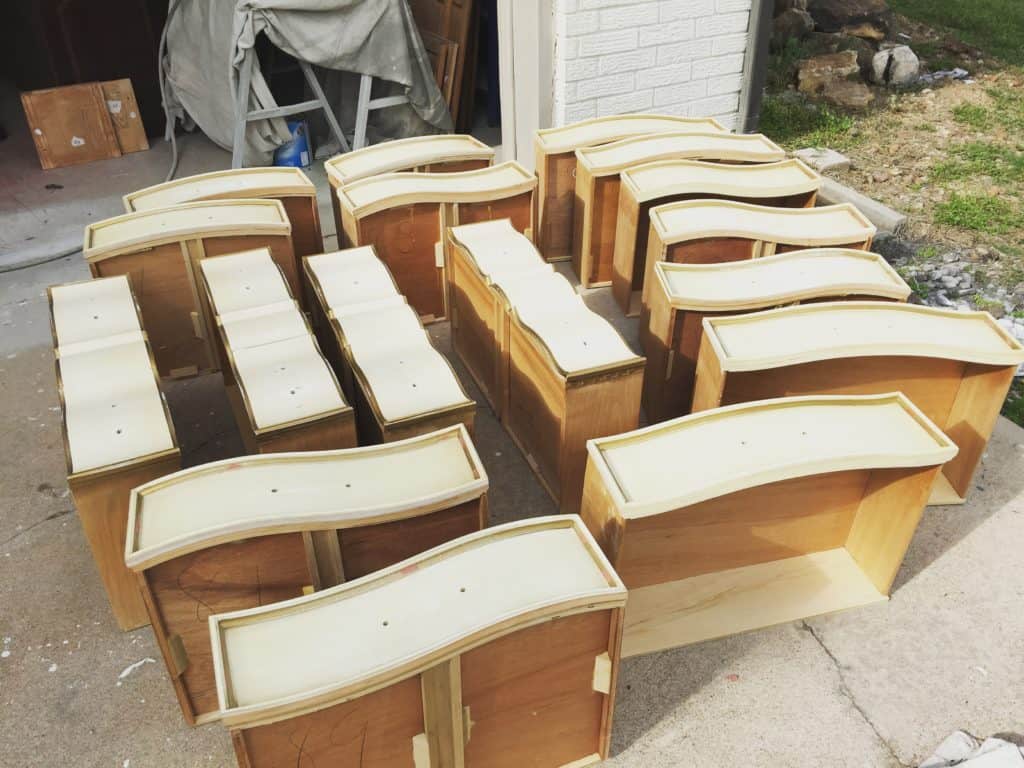 Once all of the sanding was complete and vacuumed up, I hauled everything outside to prime because the weather was gorgeous!  I ONLY primed the furniture outside.  You cannot spray high gloss fine finishes outside….super bad idea, don't try it.  Since I sand my primer after it's dry anyway, spraying outside is no big deal!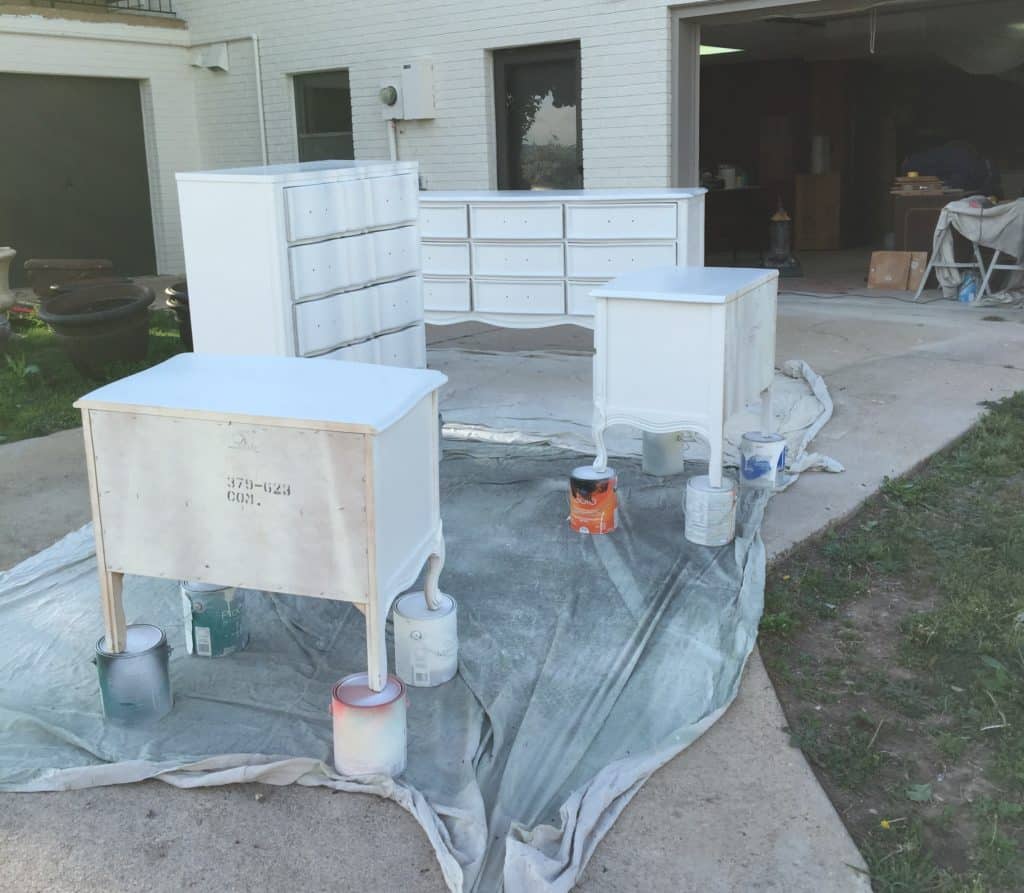 I let the pieces sit outside for a couple of hours to dry, then I used a fine sanding sponge to sand all of the surfaces down super smooth.  Before bringing it back inside, I used my air hose to spray off all of the dust.  High gloss paint requires so much careful prep!
I made an extra large spray booth to accommodate all of the pieces.  For my spray booth, I simply clip thin plastic drops from my basement's drop ceiling.  I cover the floor with canvas drop cloths then wet them down in efforts to keep the dust settled down.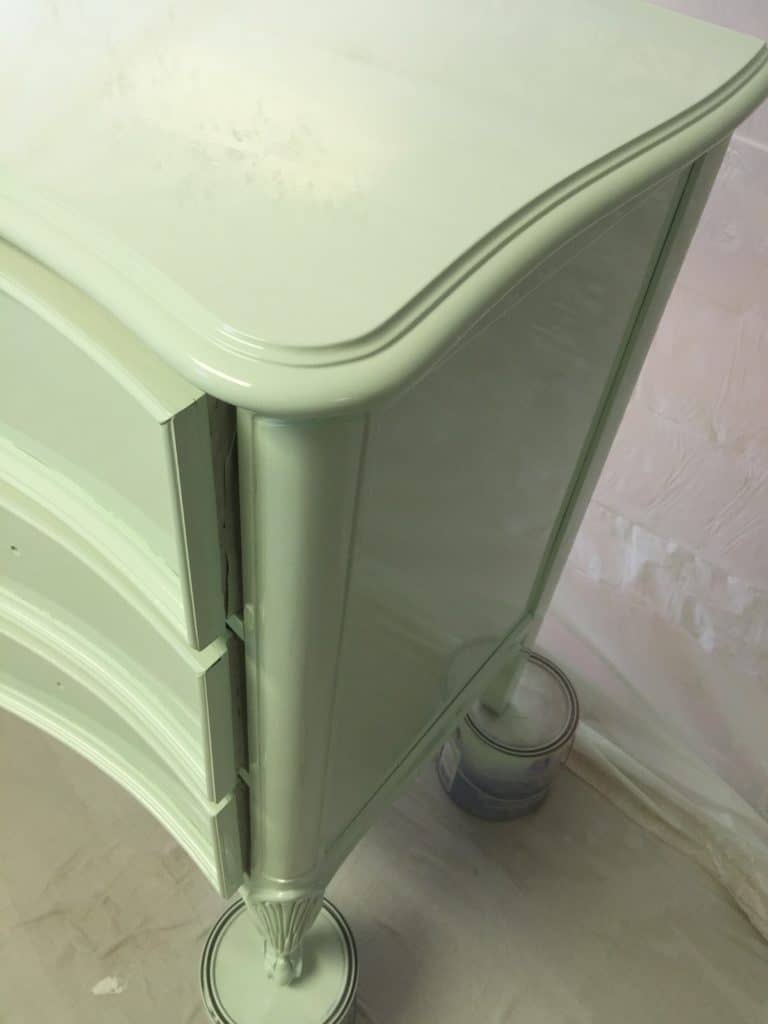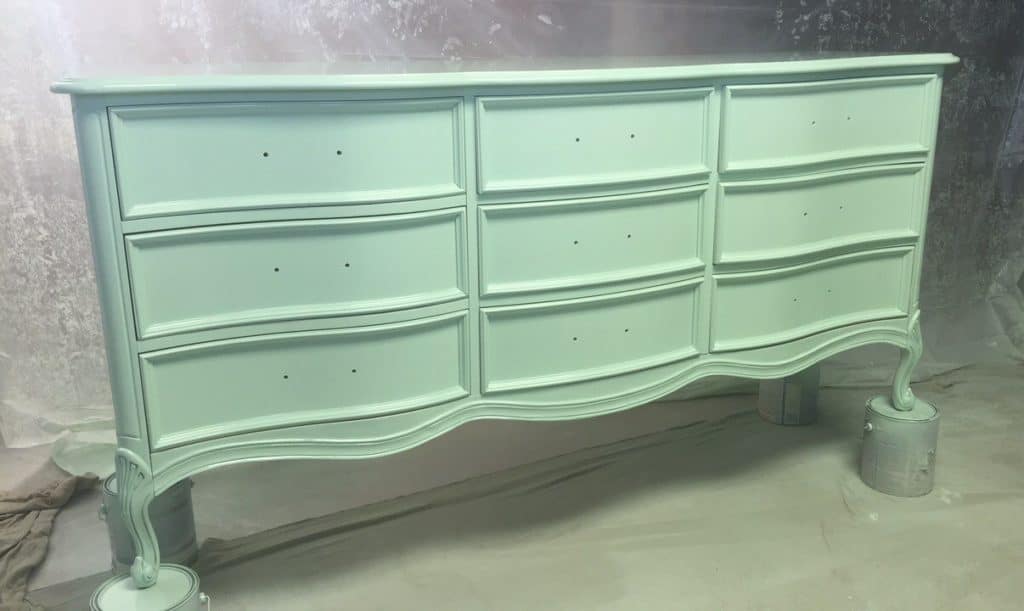 This is the first time I had ever sprayed furniture with the drawers in place.  Normally I have the drawers out and spray them individually while they're horizontal but there were so many in this set I simply didn't have the room!  I taped off the sides so I would still have a crisp, clean line ( this tool is the absolute best for taping drawers!) and then I just pulled each drawer out just enough so the sides could be painted.  It wasn't my favorite way to do it, but in this situation, it worked just fine!  I sprayed two coats on it waiting 24 hours in between for dry time.
I cleaned all of the ornate hardware with a toothbrush, Barkeepers Friend and water.  After it was dry, I sprayed a quick coat of Rust-Oleum Gold Metallic Spray Paint.  I love re-assembling the furniture after it's all complete!  Such gratification.  My mom came over to help me photograph it, but due to space limitations we just took staged photos of the dresser.  Here it is!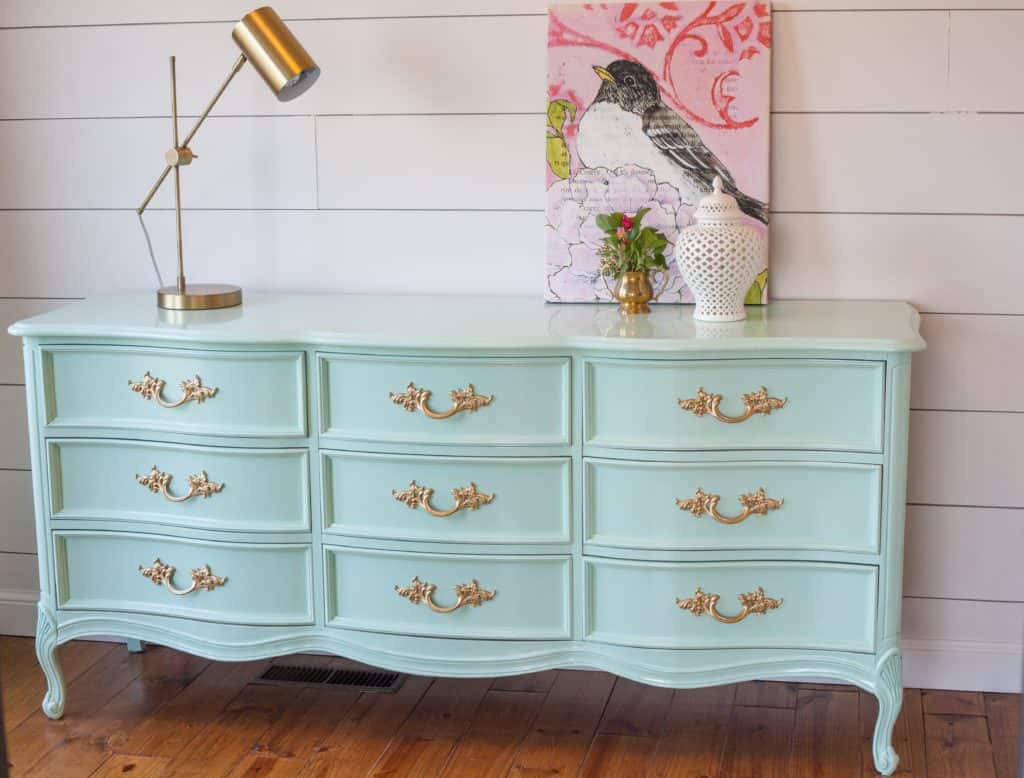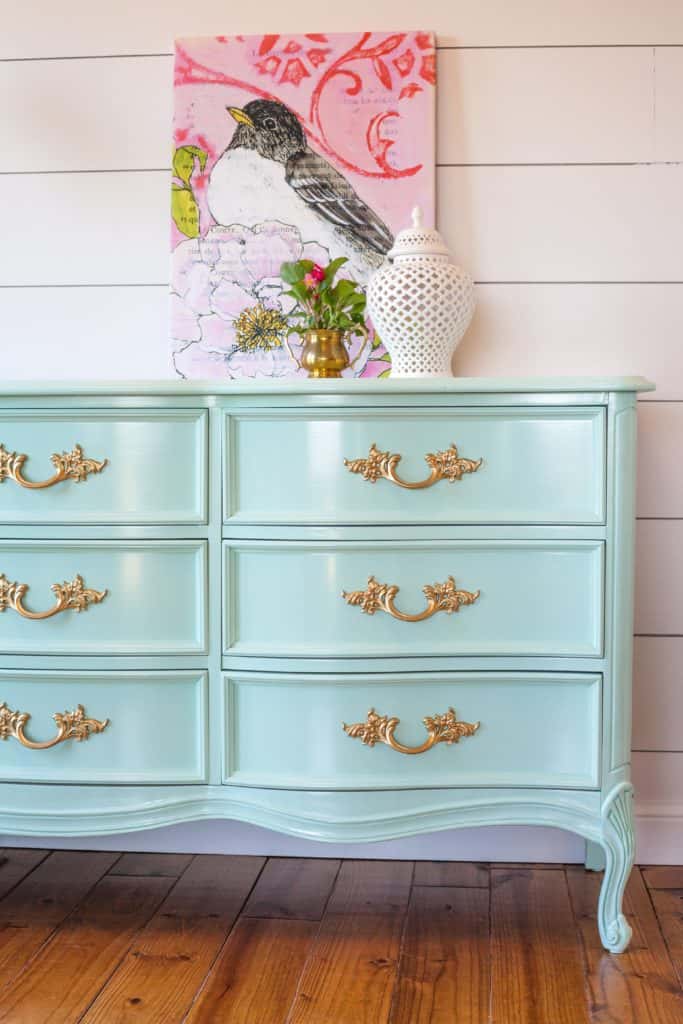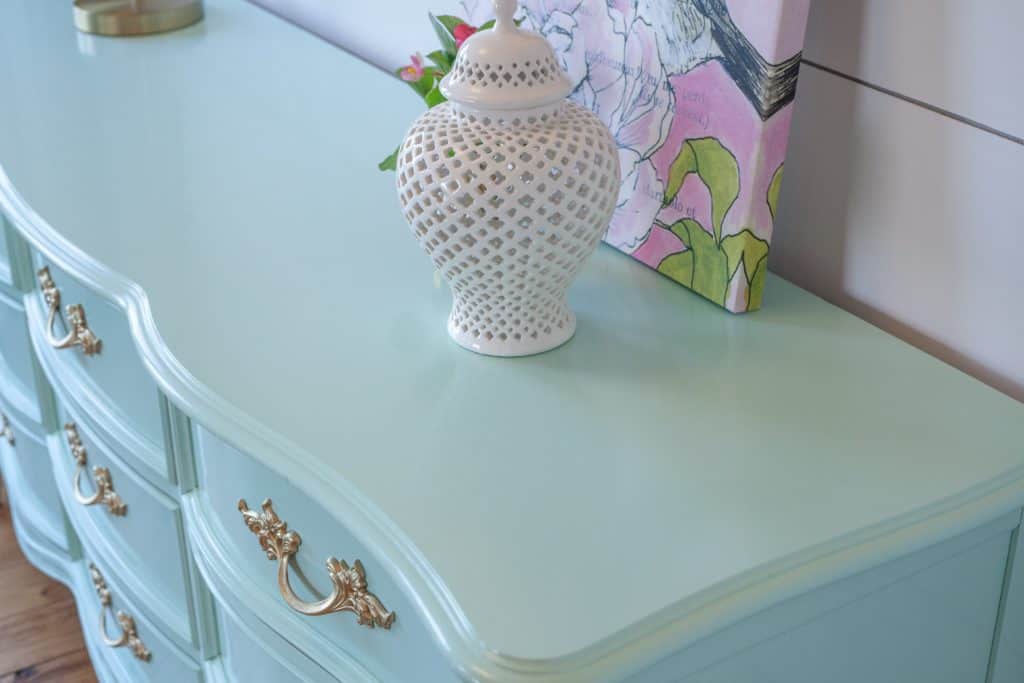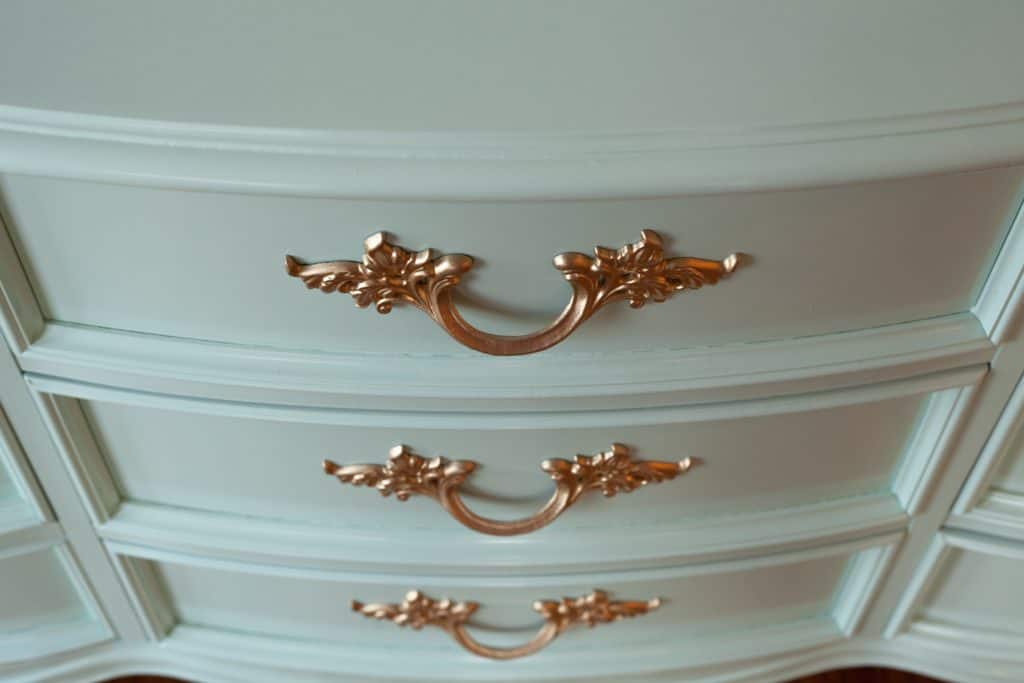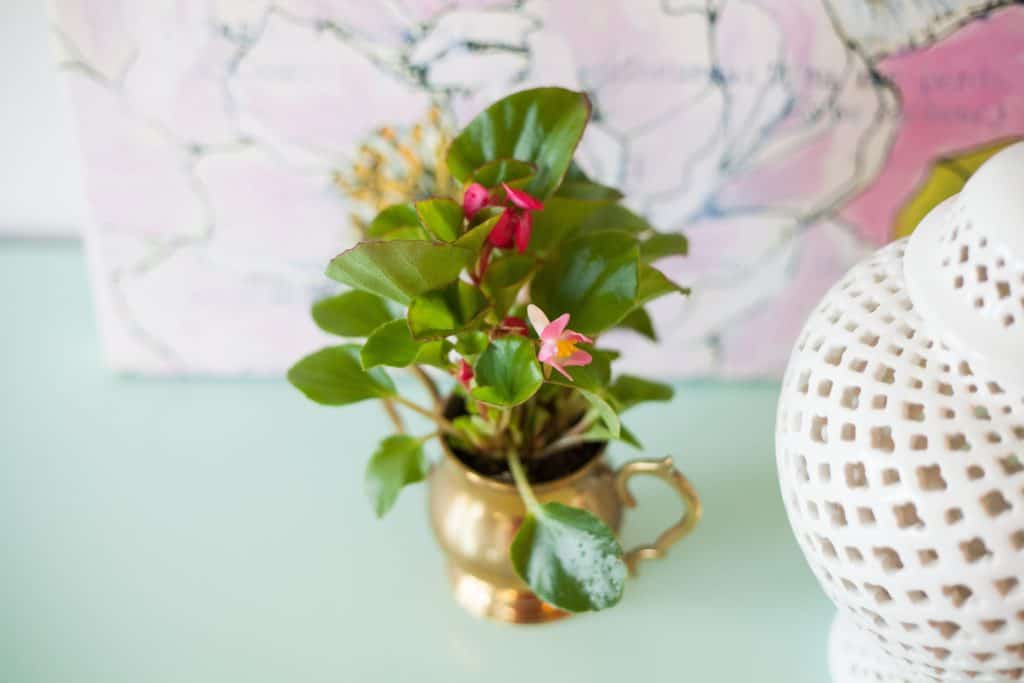 I really love how soft and feminine it turned out. I think this color will be able to transition with her daughter from nursery to teen years! Thanks for coming by:)
Click here to learn about my NEW VIP Painting Club!!  If you're interested in learning more about my club and how YOU can join in, CLICK HERE!  I promise it will be fun, informative and awesome!!!
And don't miss this post about all of my most favorite tools and equipment for painting furniture! xo