Today I'm going to talk about painted brick.  It seems like there's such controversy surrounding this topic.  Seems like people love it or hate it.  I'm a little nervous to even post about this!  I touched on this topic a while back when I shared the before and after of the brick fireplace in our previous home.  To my surprise, I haven't received any negativity on that project….well, except from my dad that is.  He really thinks I'm crazy for painting brick…and wood, and furniture, and paneling etc.  I digress.
Before we put in an offer on buying this house, I told my husband that I'd only agree to it if he would allow me to paint the exterior brick.  He obliged!  Here's how the house looked on the day we closed.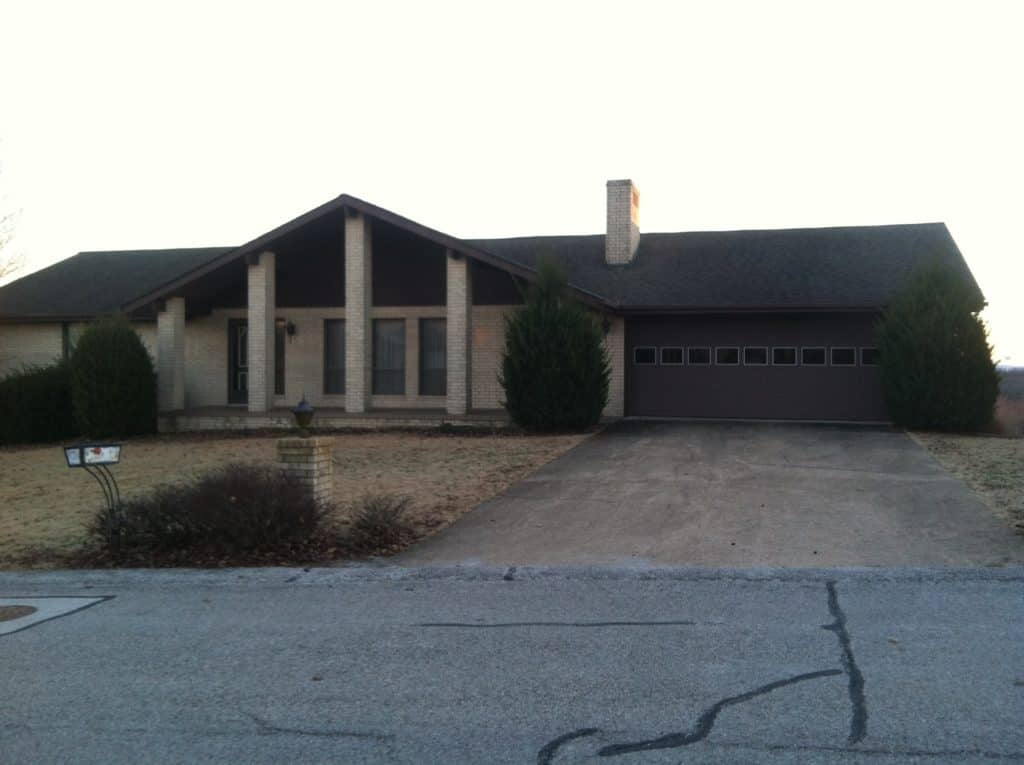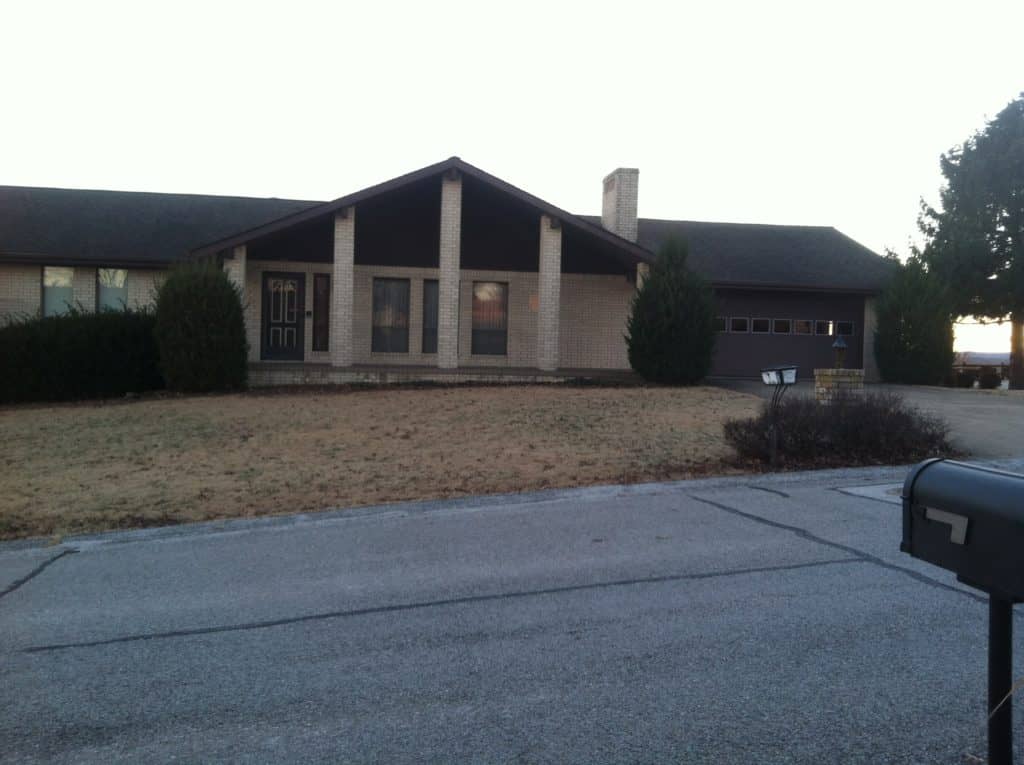 Even though it was really rough, I could see past its 70's facade.  To me, this was a perfect diamond in the rough!
You may be wondering, "how much would it cost to pay to have a brick home professionally painted?"  I wondered the same thing!  I'm a paint contractor (albeit, a very small, one-woman-show contractor but still).  My painting jobs focus on furniture, cabinets, room remodels etc.  I like painting little jobs that take me about a week or less to complete.  Working alone and with limited equipment hinder me from taking on huge painting jobs.  And that's the way I like it!  Being in this business, I knew that painting a brick exterior would be a boat load of money, but I was curious to know exactly how much.  To put an exact price tag on my hunch, I asked another painter in my town to give me an estimate.  $20,000.  Mic Drop.  (disclaimer: prices will vary widely due to where you live and size of house of course…Surely this goes without saying, but just wanted to add this in)
Okay, so obviously this would be my biggest and most challenging painting job, but to get rid of that blonde brick and brown siding, I was more than willing to take it on.
First things first, the entire house needed a good bath.  I rented a pressure washer and hosed it all down!  I just used water.  I've read several articles that say you can add bleach or some soap to the water, but we chose to just use plain water.  The years of dirt and mold need to be gone before you break out any paint.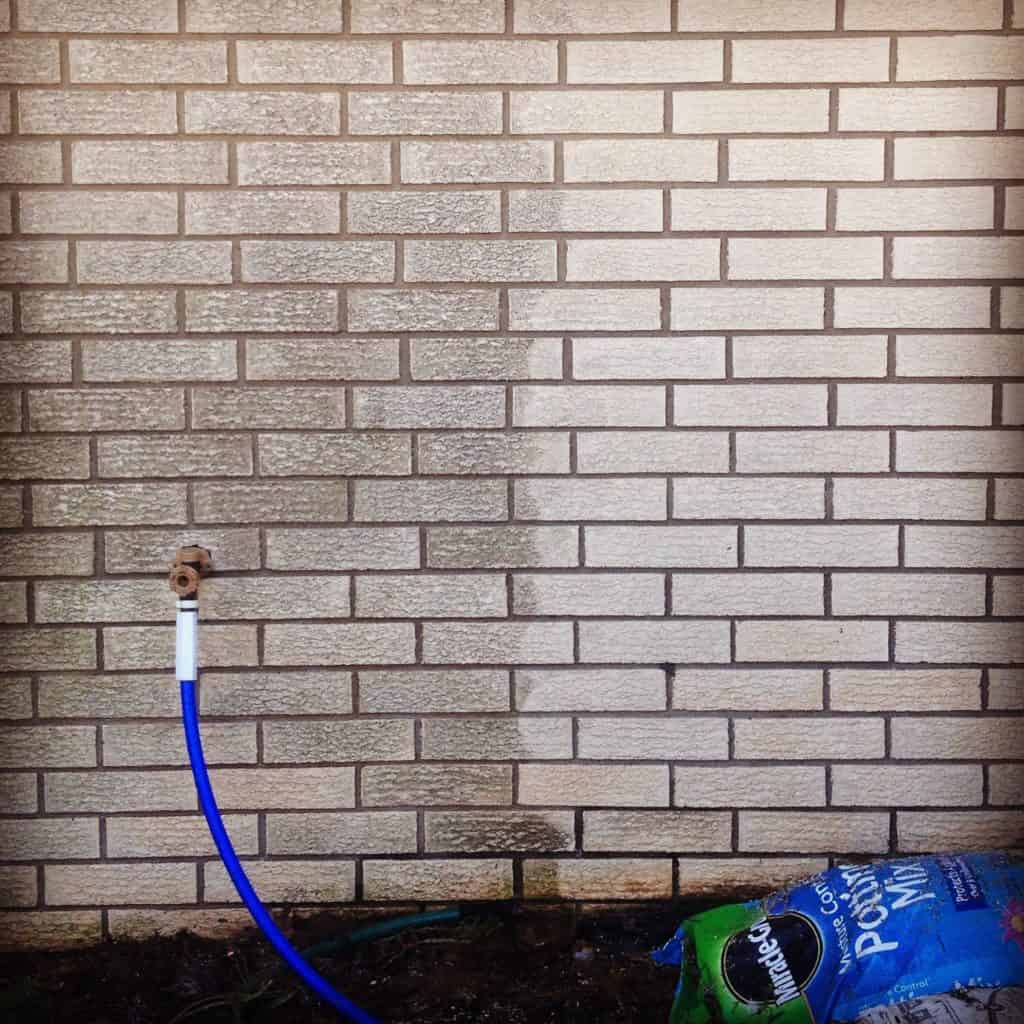 Even though just this task alone was so much work, I really enjoyed it!  Instant gratification!  It took me two weekends just to get everything pressure washed.  I let the house dry for about a week before I began painting, also very important.
I approached this project as if I were eating an elephant: one bite at a time.  I wanted to start and complete just one side at a time as to not get too overwhelmed.  The west side was the "easiest".  It was the least high off of the ground.  We assembled the scaffolding, and then I got to work.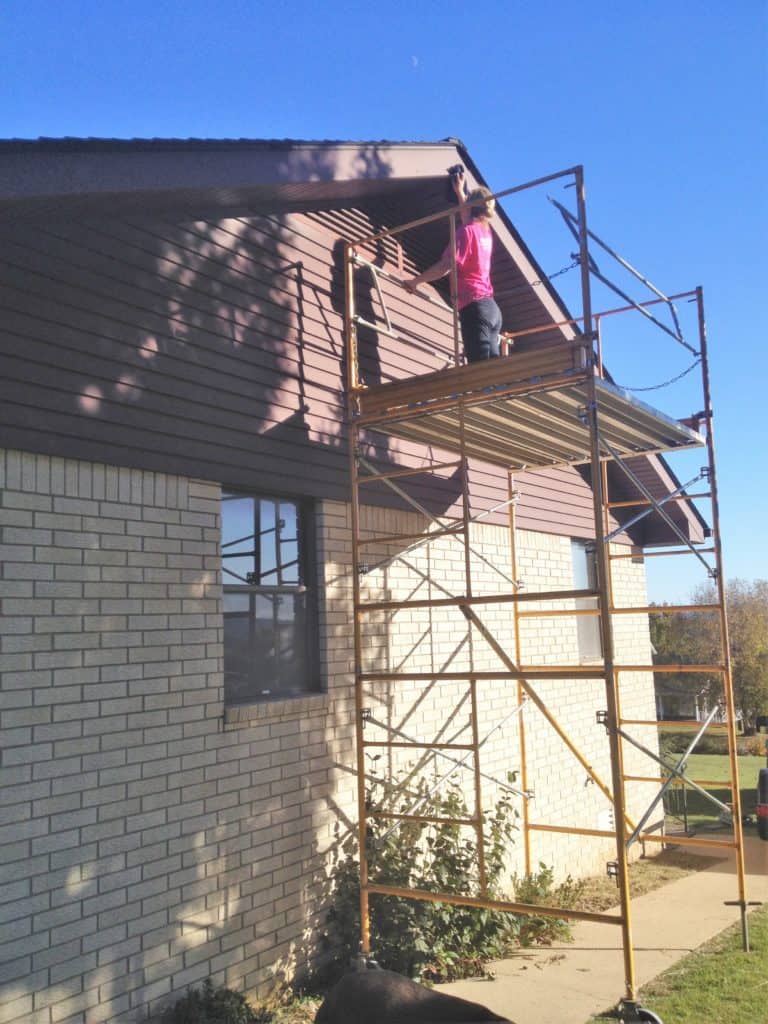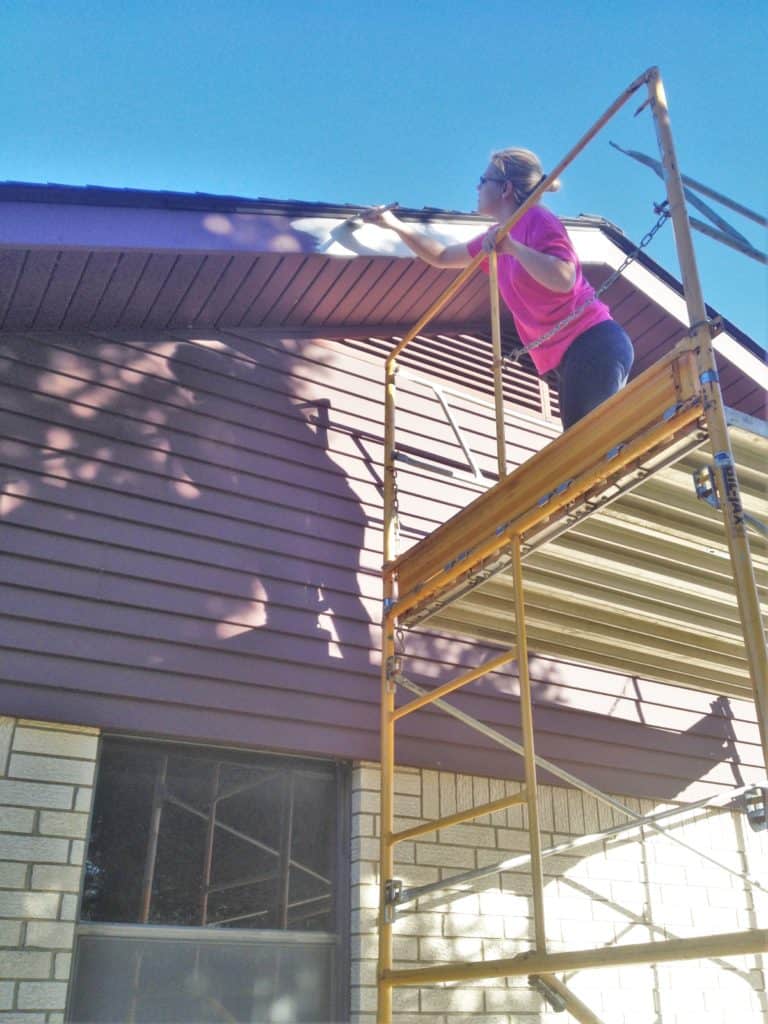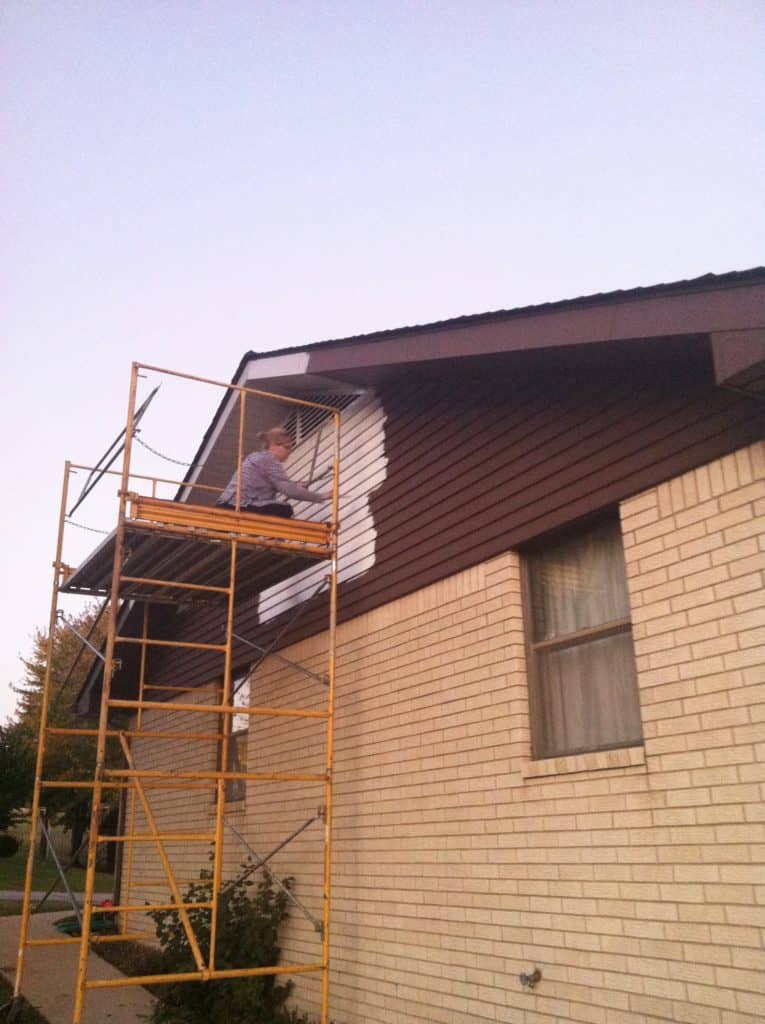 Our siding, soffit and fascia were all aluminum which meant it would take paint really well.  Had it been vinyl, I wouldn't have been able to paint it successfully.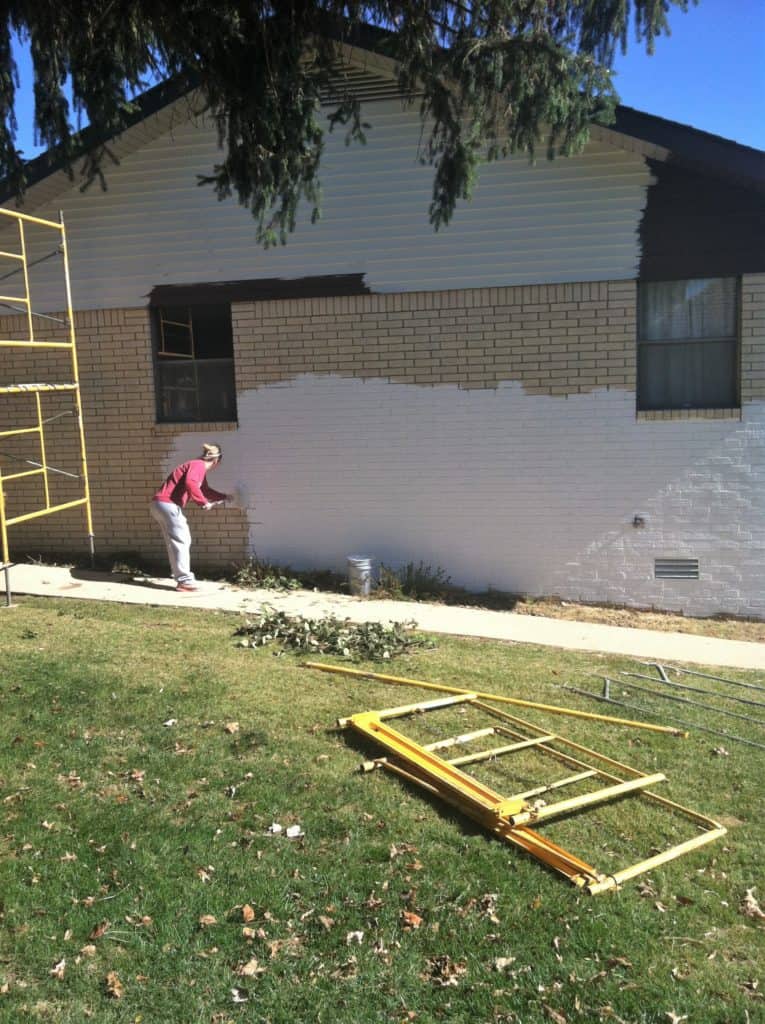 I chose to roll the primer and paint versus spraying so that I could really push all of the primer into every single nook, cranny and void on the brick surface.  Rolling a brick facade will last a handful of years longer than a sprayed brick surface.  After completing the west side, I moved onto the front a couple of weekends later.  Then came the east side and finally the back.  It took me a long, long time!  I just worked on it as I had the time to and weather permitting.  Once I got to the point of it almost being finished, I. was. so. over. it.  I called one of my friends (who is a full time painter) and begged him to come finish the last couple of places that I was too scared and too tired to do!  In the back of the house, the gable peek is really, really tall.  I would've needed three tiers of scaffolding to reach it!  I had to draw a line somewhere.  I was just too scared to get up that high.  And the chimney too.  I didn't think that painting on top of the roof sounded like fun.  So my buddy saved the day!  He and his crew came out and knocked it out in a day and a half (it would've taken me a week).  It wasn't cheap, but it was about the best $1,100 bucks I've ever spent.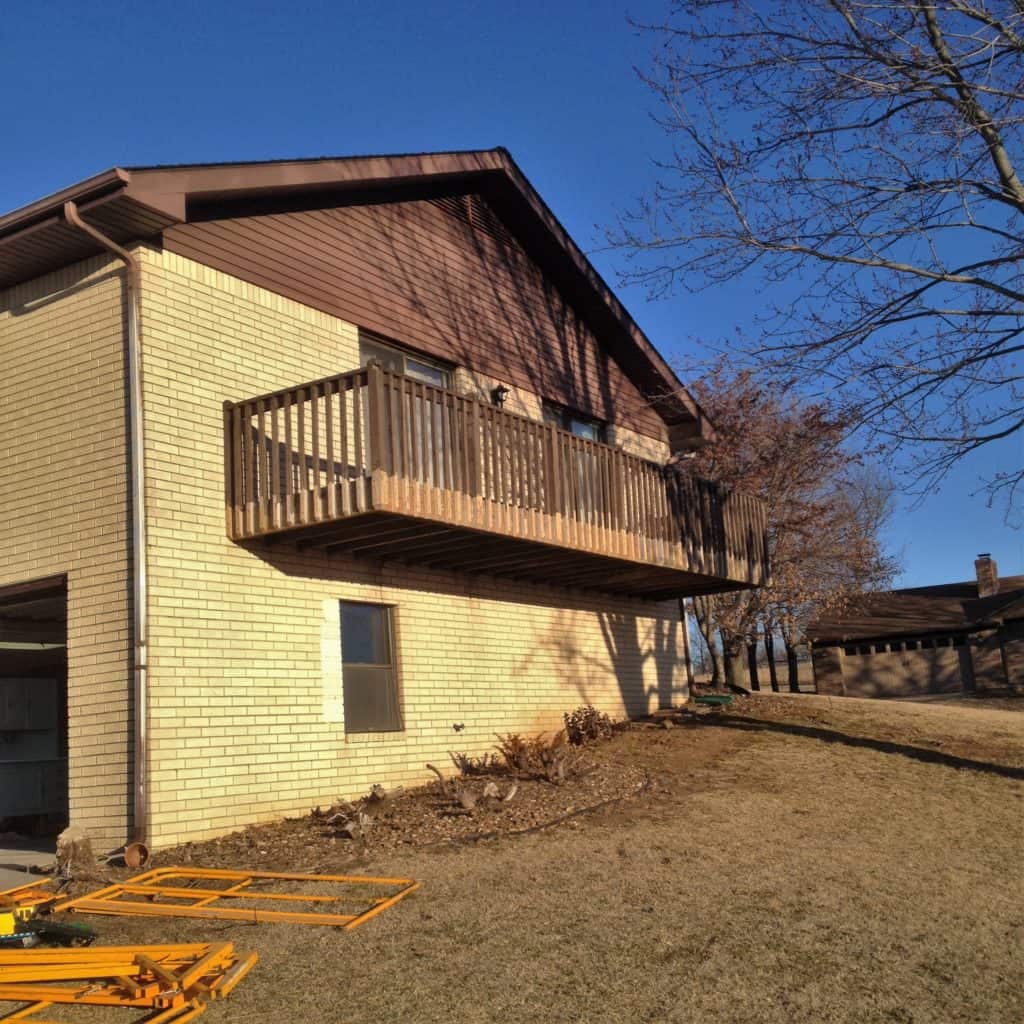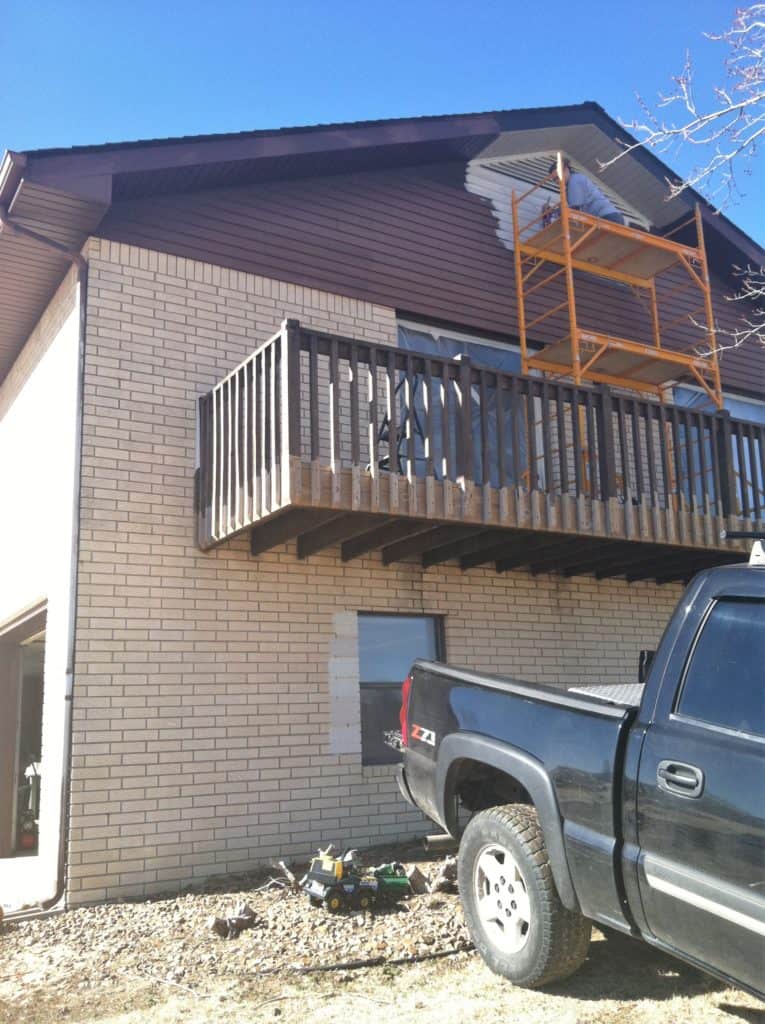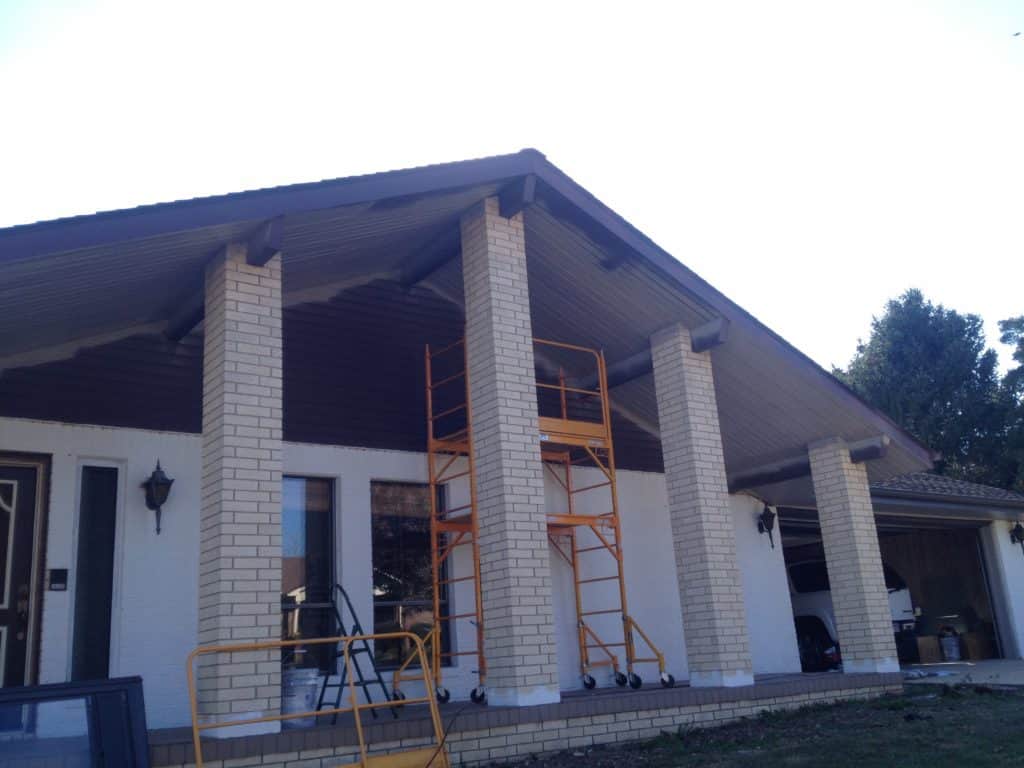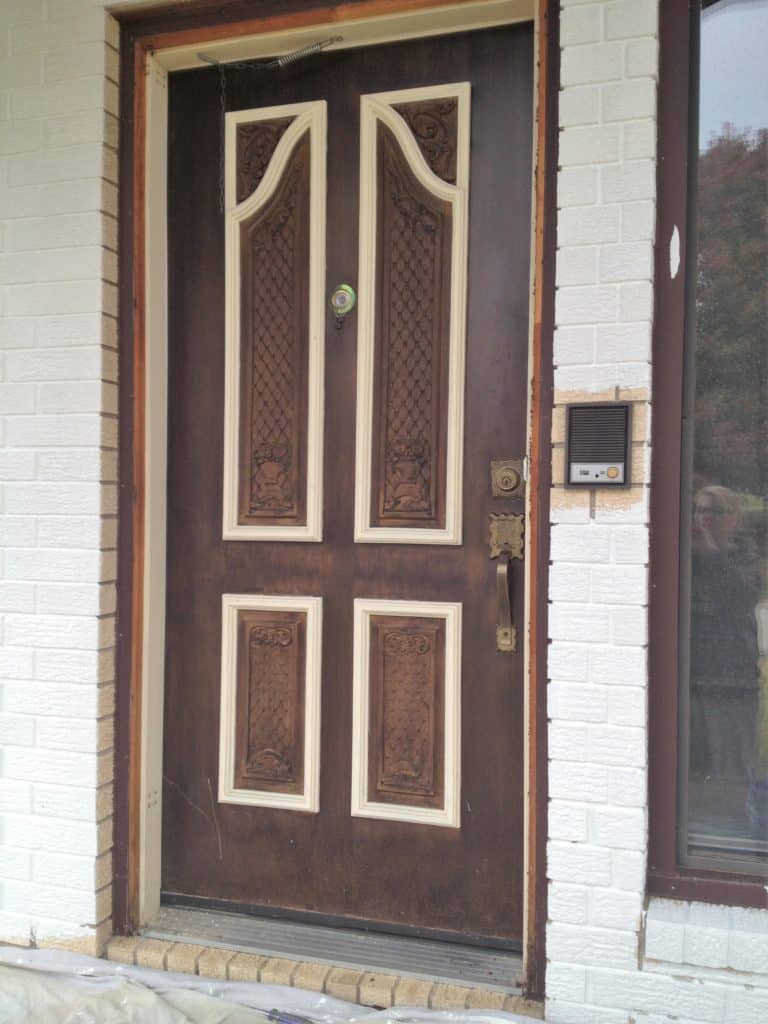 I used Sherwin Williams masonry primer, Loxon for my first coat.  After that dried, I rolled Sherwin Williams Resilience Exterior paint in Satin finish.  The color is Sherwin Williams Neutral Ground mixed at 50% on the brick and the siding.  The soffit and garage door color is a custom shade I made up, and the fascia, gutters, downspouts and shutters are SW Black Fox.  After a year and a half of on and off painting, updating and landscaping (told you it took a long time) here is what it looks like today.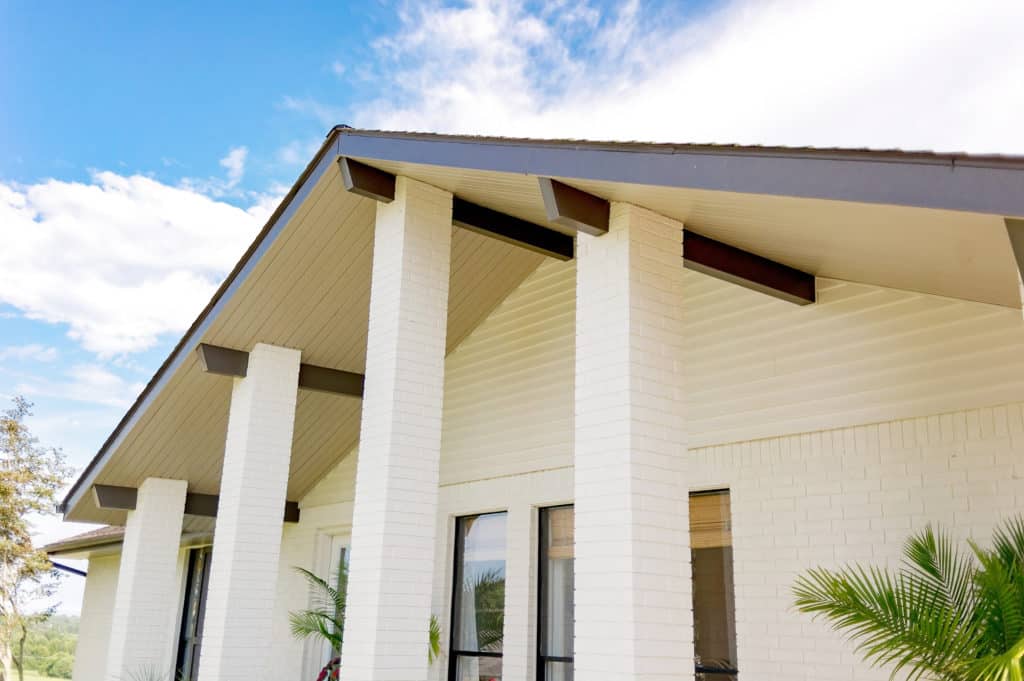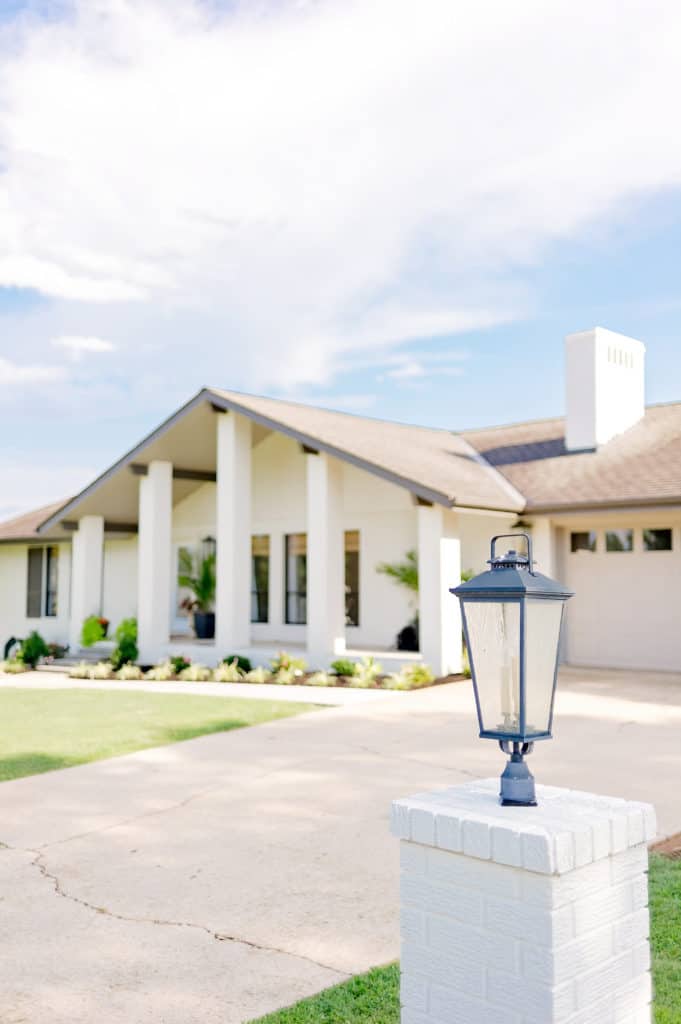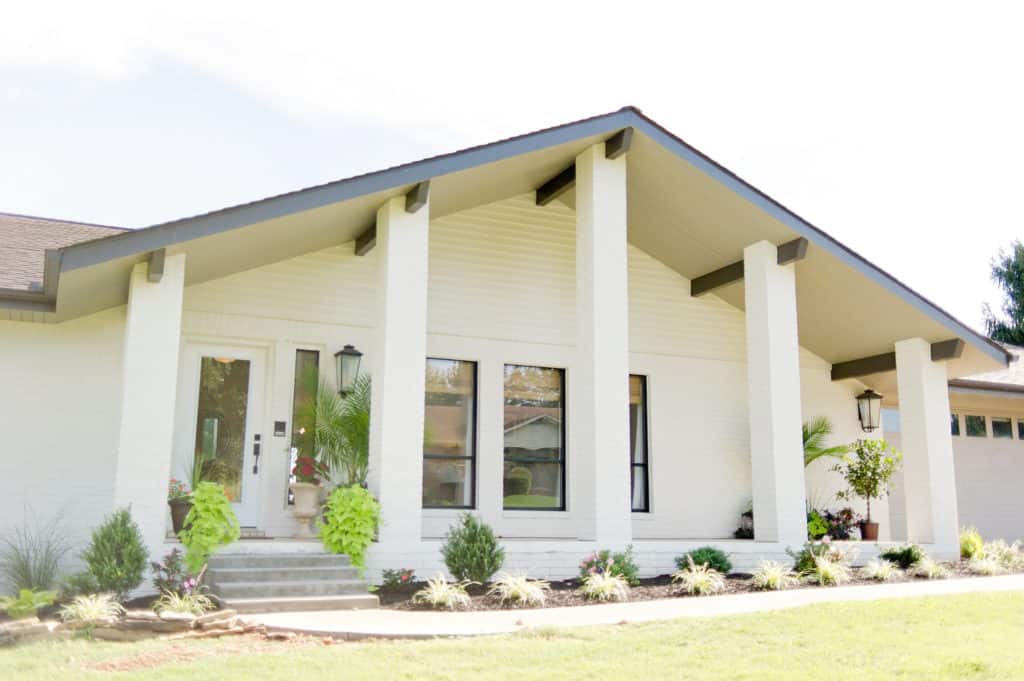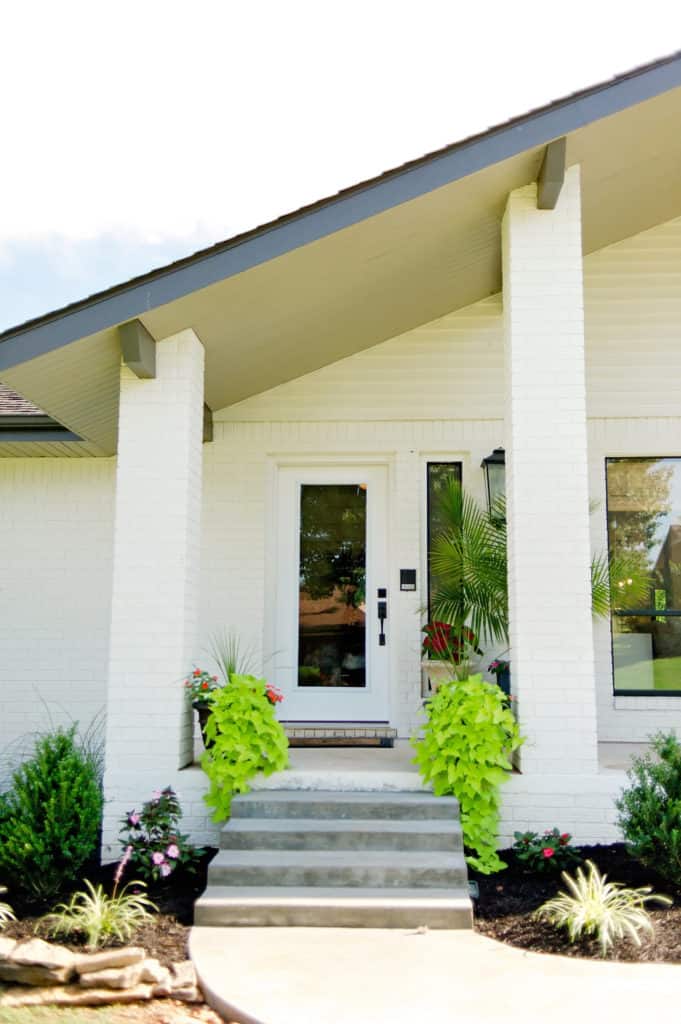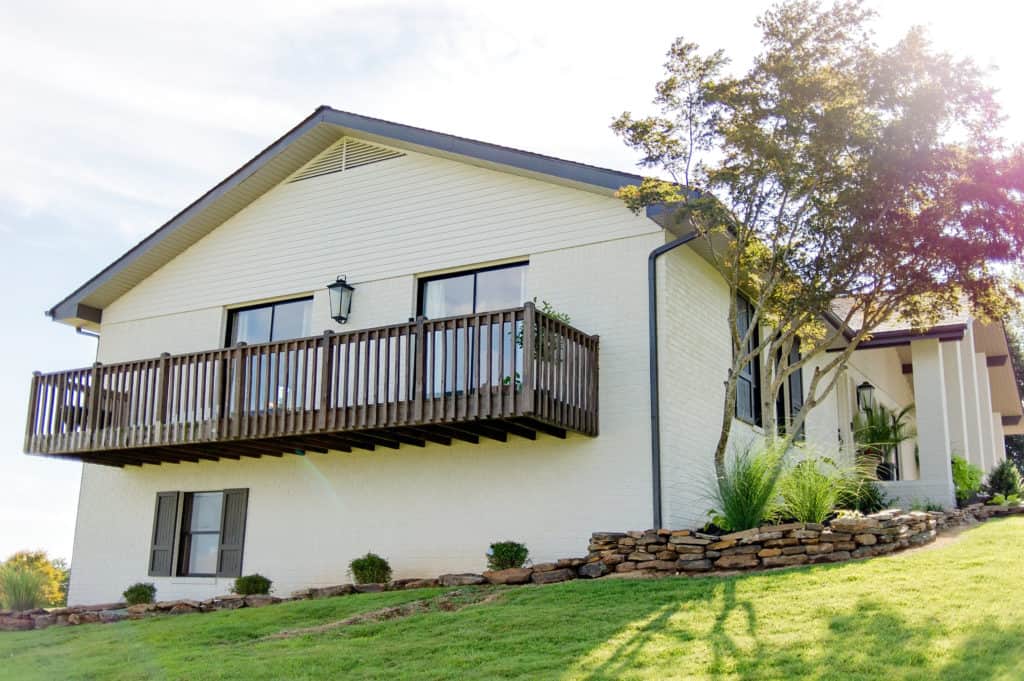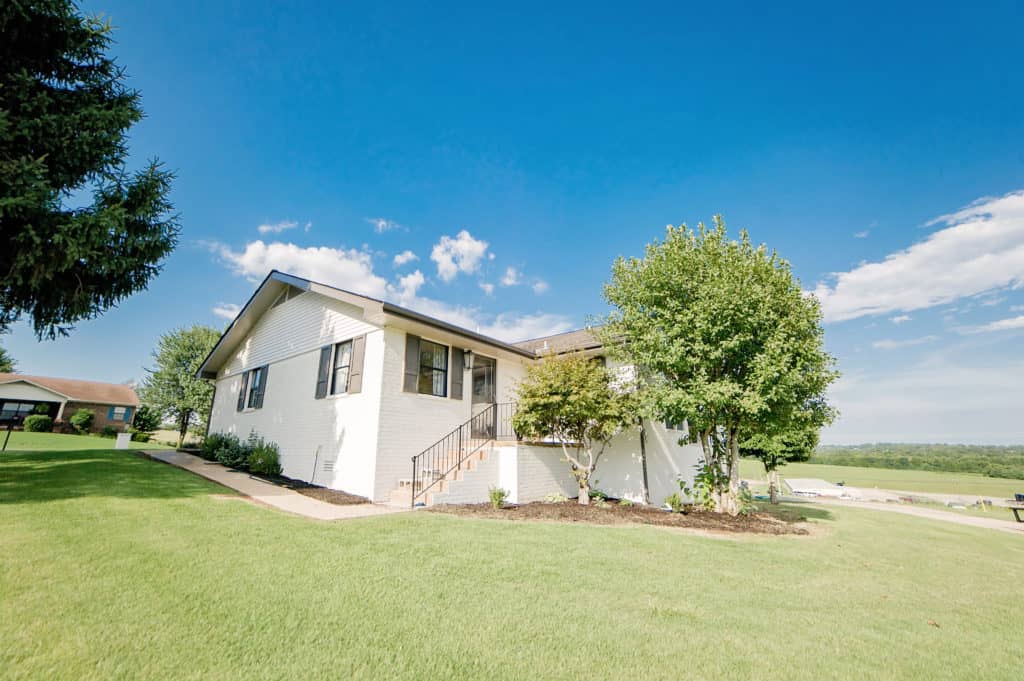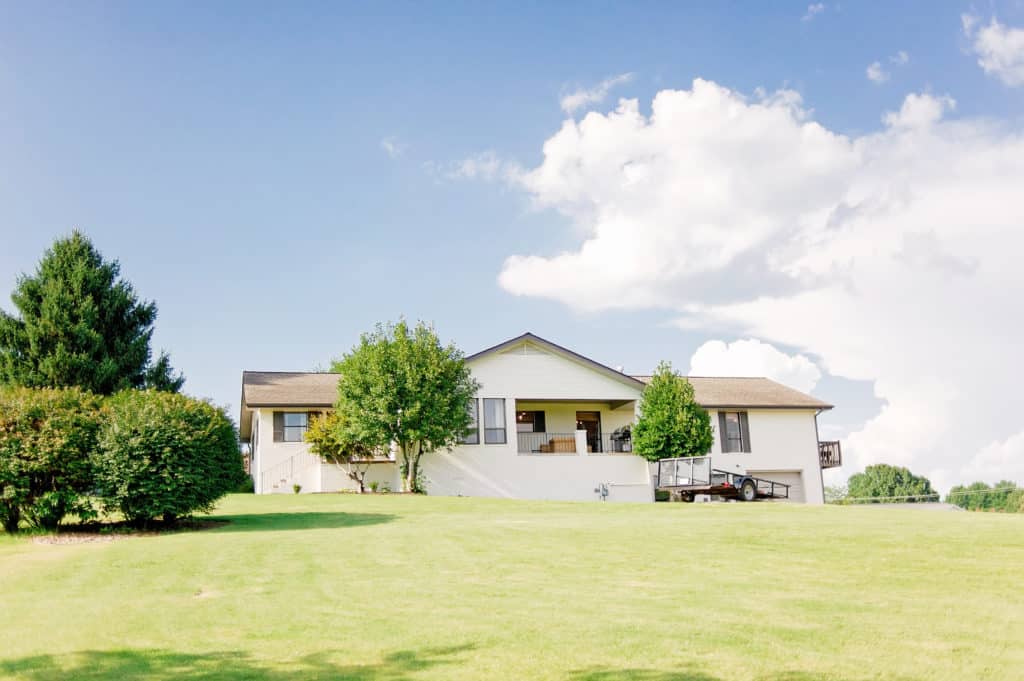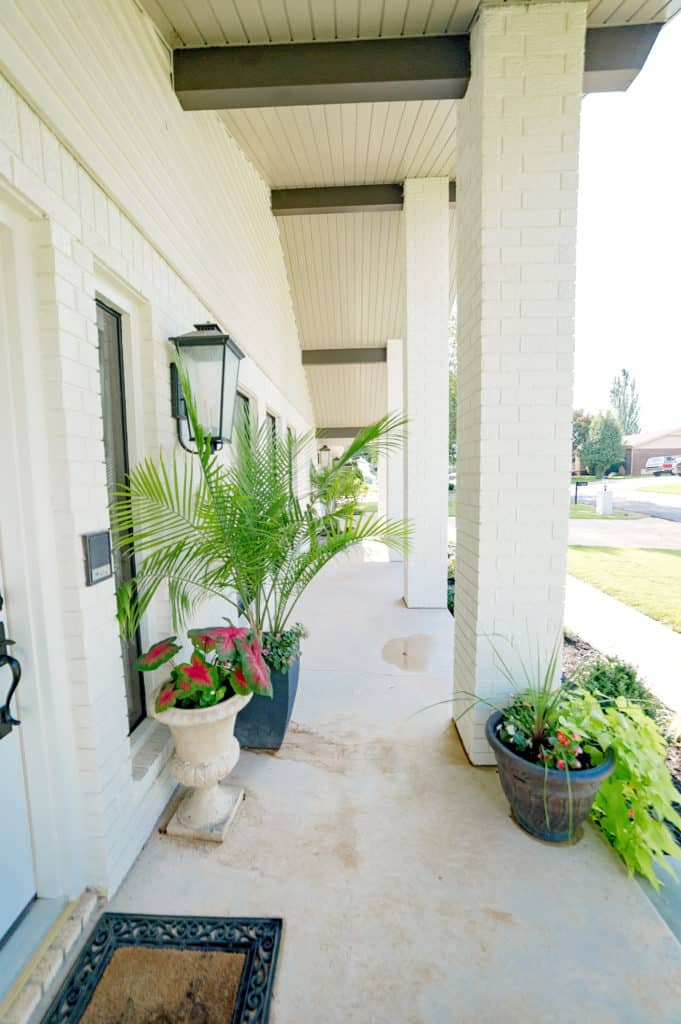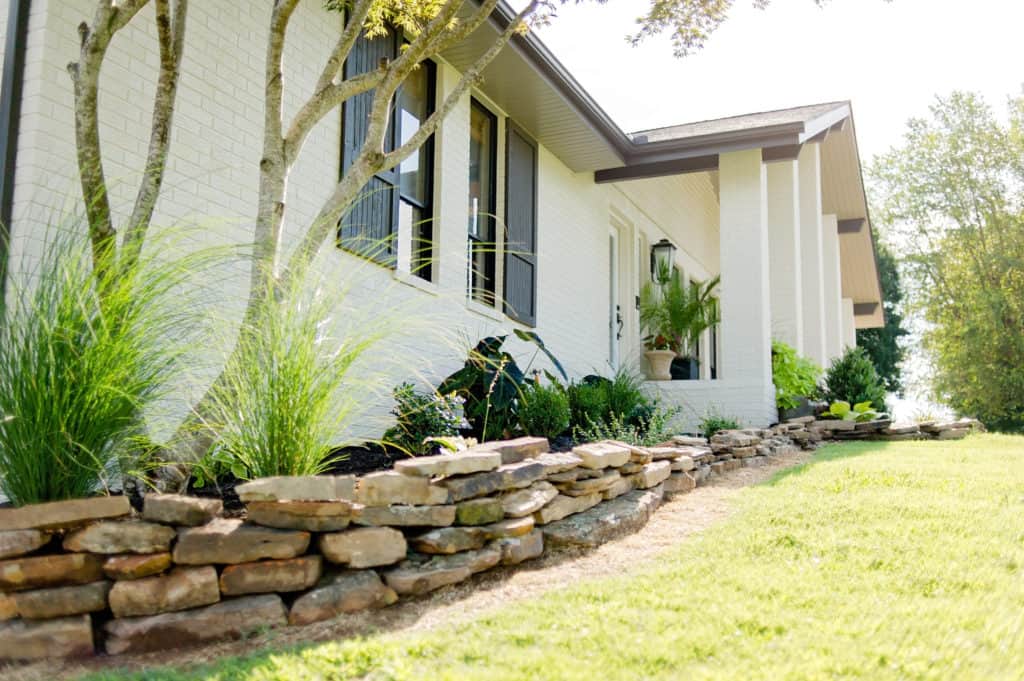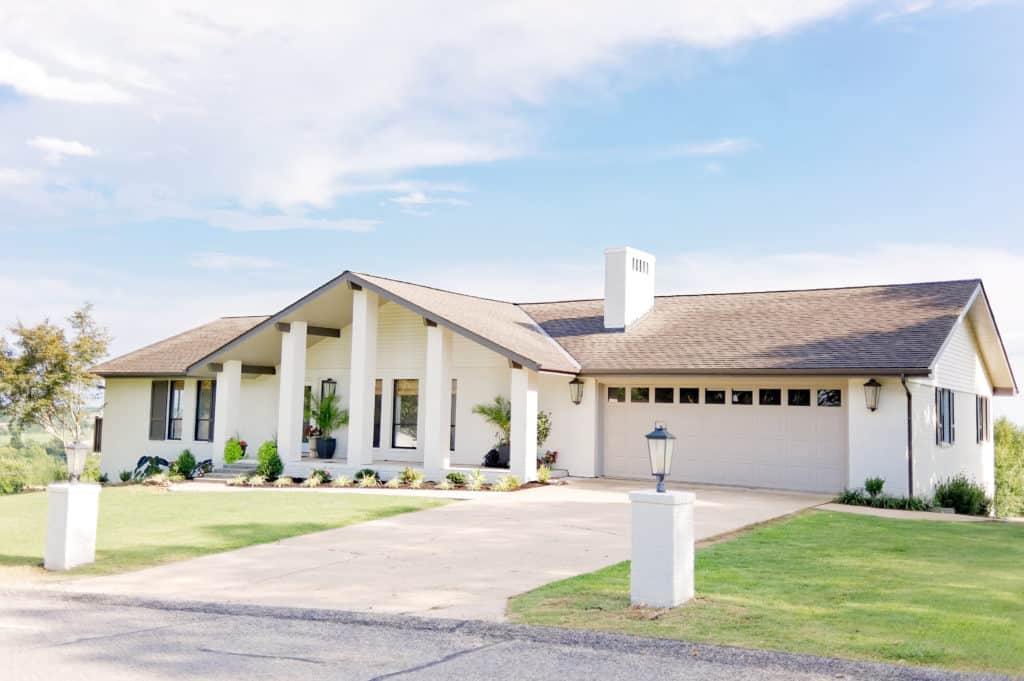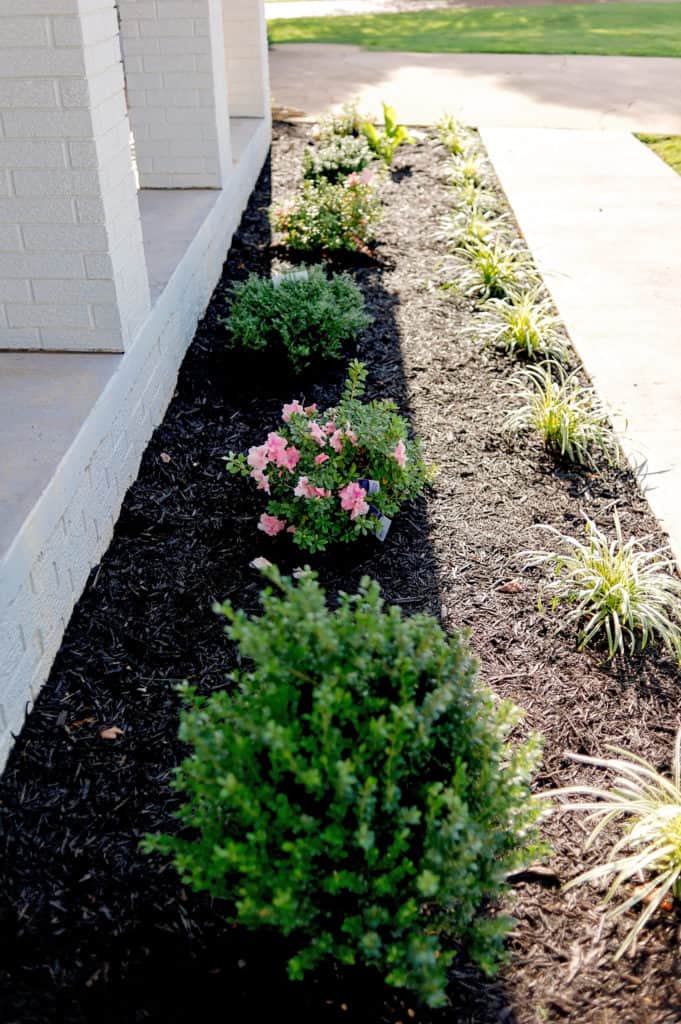 Major upgrade don't you think!  I look back at these photos and think to myself, "I cannot believe I was crazy enough to take on painting this huge house by myself".  I know exactly why it would've been $20,000 to hire it done.  Well guys, I hope you enjoyed this before and after!  Wonder what's the inside before and after's look like? Take a look at the kitchen here, bathroom here and living room here! xo