*Post contains some affiliate links*
Hey guys!  I'm so excited to show you my latest project!  This Stanley bamboo tallboy was another Craigslist find, well, in a roundabout way that is.  I bought the matching dresser that was listed on Craigslist and while there, the seller mentioned she also had this tallboy that she wasn't sure about selling yet.  I told the story in this post if you want to read about it.  This piece is pretty rare to find, I think.  Years ago, Sarah Richardson added this same tallboy in a room she designed for her show, Sarah's House.  Sarah is one of my all-time favorite designers!  Since seeing this piece on that episode, I have always been on the lookout for one!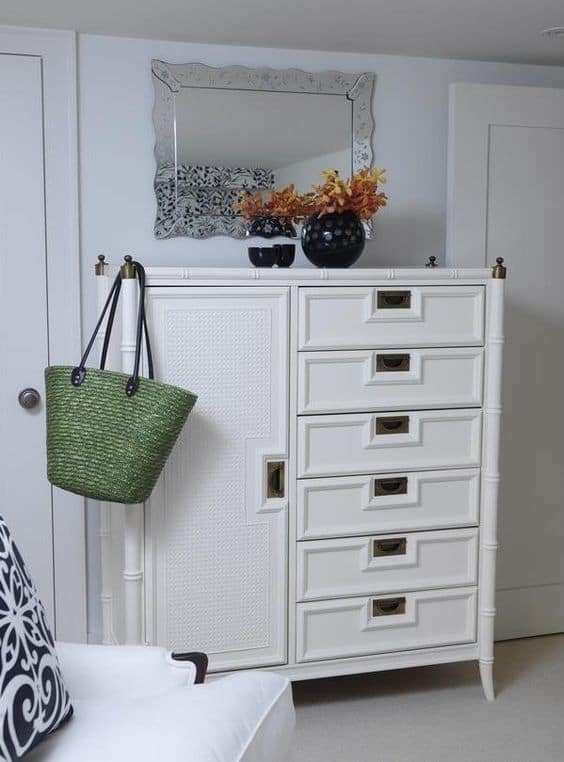 Isn't it so pretty? You can see why I was so pumped to get my hands on this lady. Side Note: I seem to always label my furniture pieces male or female, little bit weird, I know. Sorrynotsorry. Moving on… This is the before photo.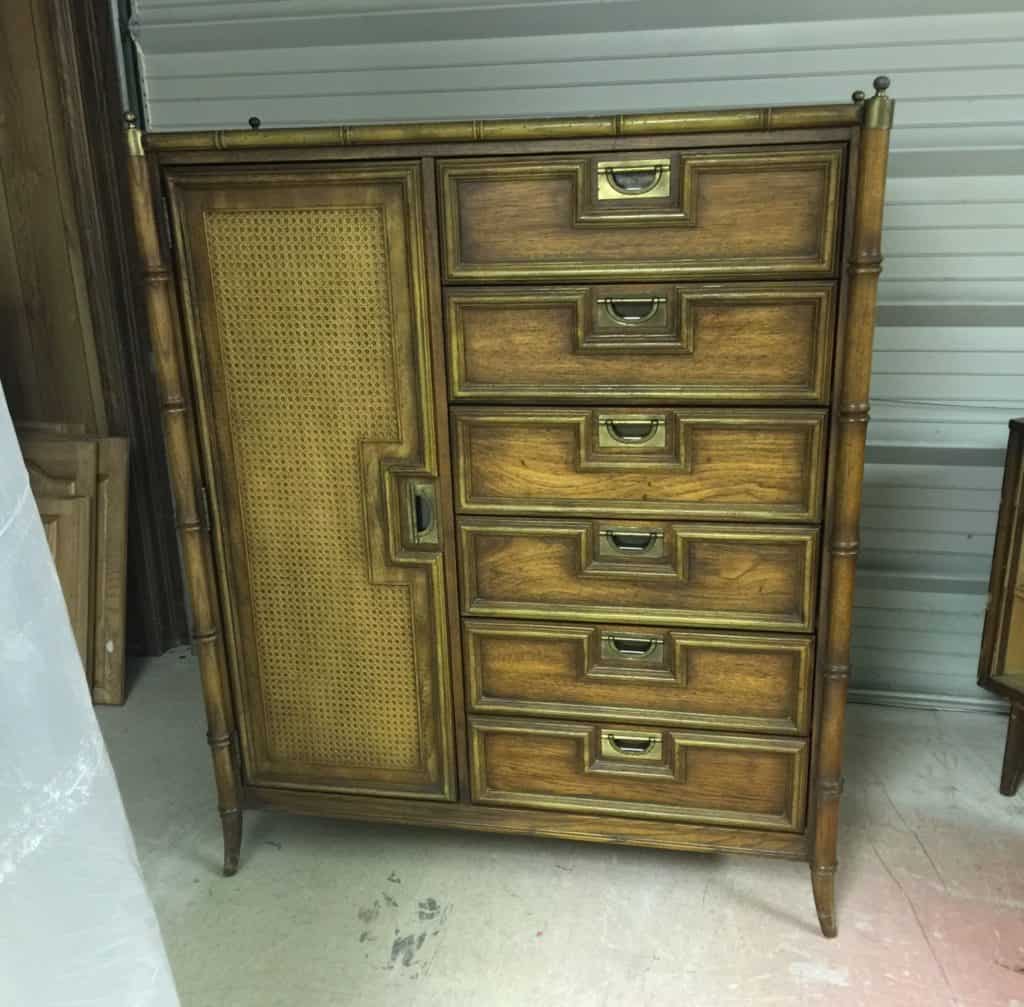 So let me tell you something, taking chances in furniture flipping can be one of two things, 1) Brilliant or 2) Death.  I decided to roll the dice on this one and hoped for brilliance!  I chose a pale shade of peachy blush and a stunning bird print paper from Spoonflower.  The paper is so gorgeous!  I really felt like the tallboy just needed a "pop" of bold pattern to really showcase the left side behind the door.  My idea was to remove the shelves from the left side and add a hanging bar for clothes or dress up clothes and all things girly.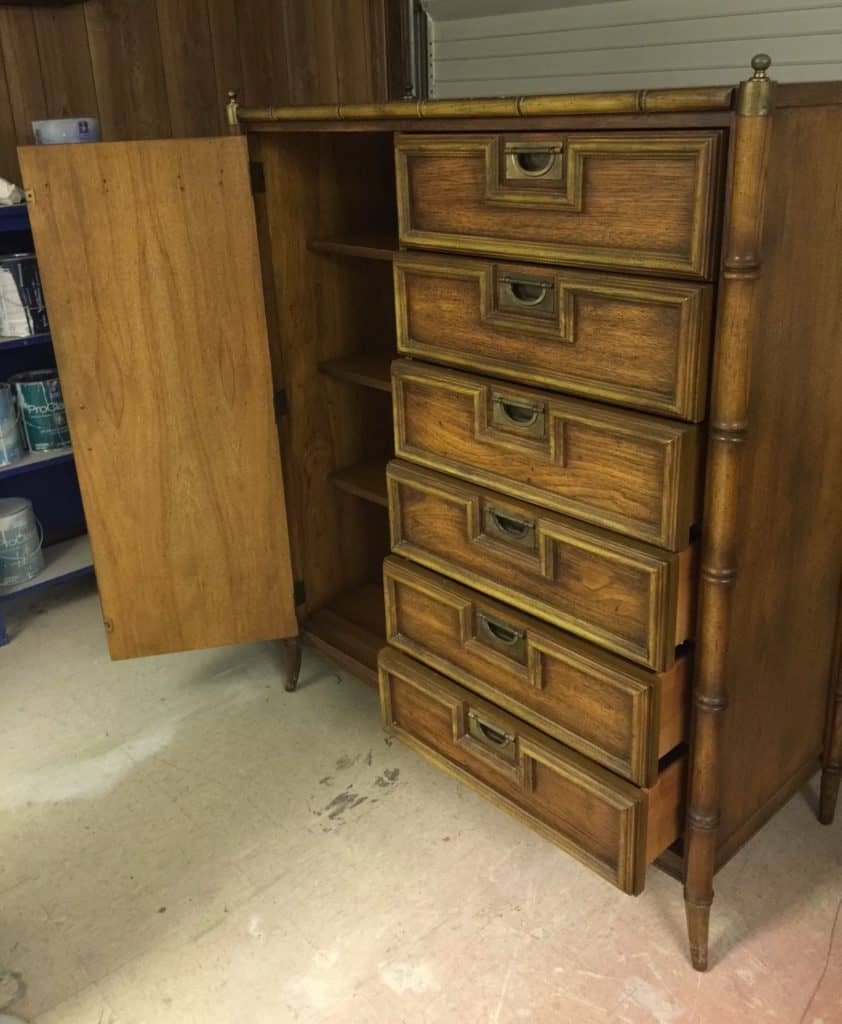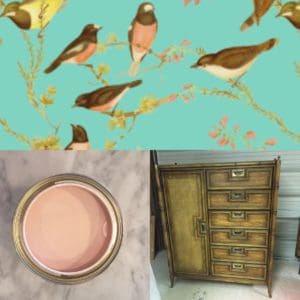 After painting the tallboy in Koral Kicks mixed to 150% (color by Sherwin Williams but I used Fine Paints of Europe Hollandlac Brilliant), I used Mod Podge to adhere the paper into the "closet" area.  I'll be honest, it wasn't fun or easy to do, really.  I measured the back part first then cut my paper 1/2″ larger than the measurement, then brushed Mod Podge onto the back of the tallboy and began smoothing the paper onto the surface.  I trimmed the excess the paper with a razor blade after it was smoothed out.  Then did the same process for the sides.
I let the paper dry for a few hours then went back and brushed on a layer of Mod Podge on top of the paper to seal and protect it…then I freaked out a little bit.  The paper wrinkled up terribly!  I've never really used Mod Podge on paper before, fabric yes, but paper no.  I decided to just leave it alone and pray that the wrinkles would shrink back once dried. The next morning the wrinkles were gone!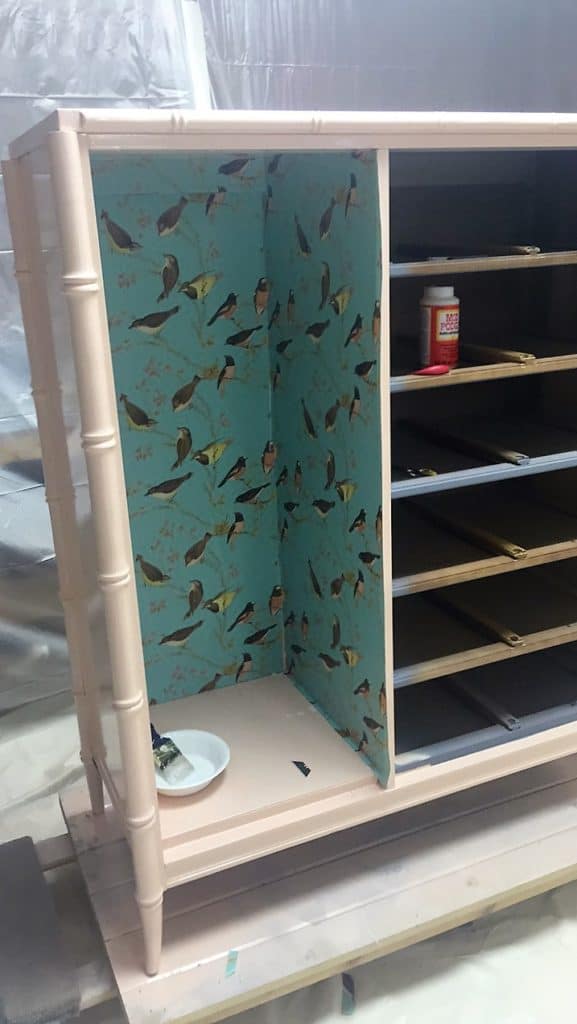 With the paper installed, it was time to install the hanging rod.  My friend, Christina, offered to send me a leftover piece of lucite from her recent drapery rod project.  I thought the lucite rod with brass hardware to attach it would be just perfect!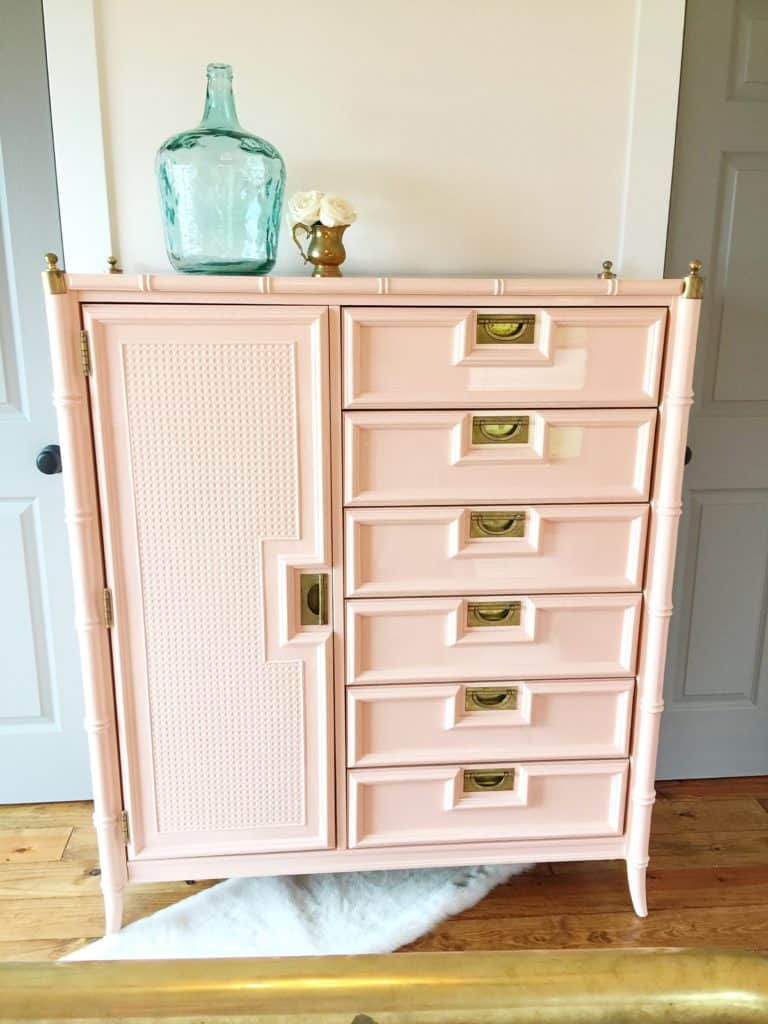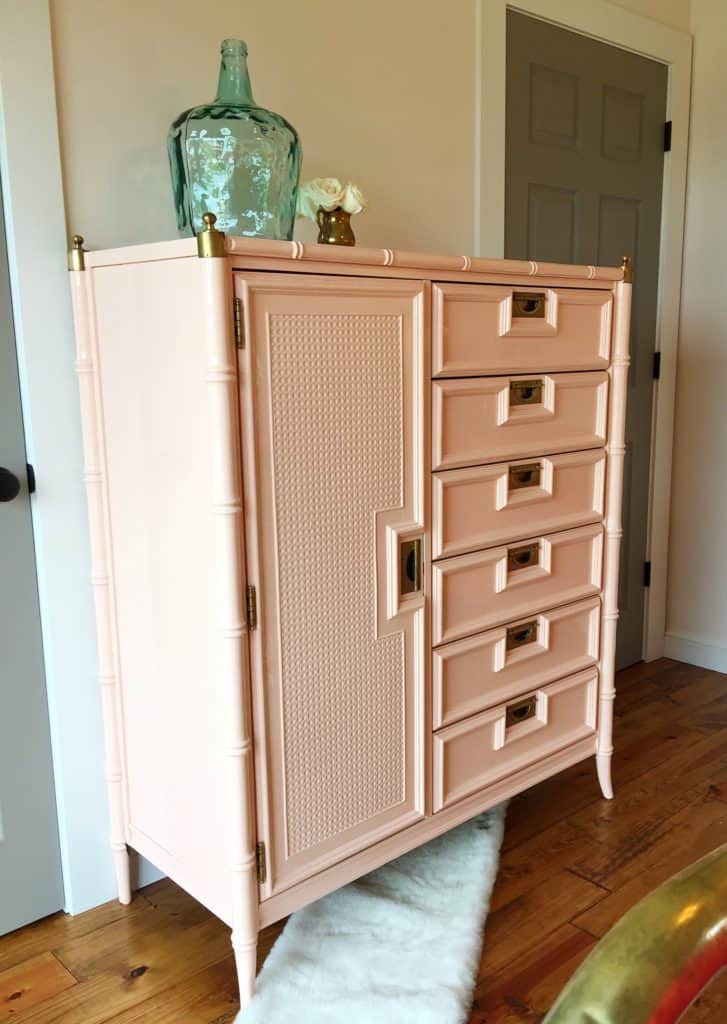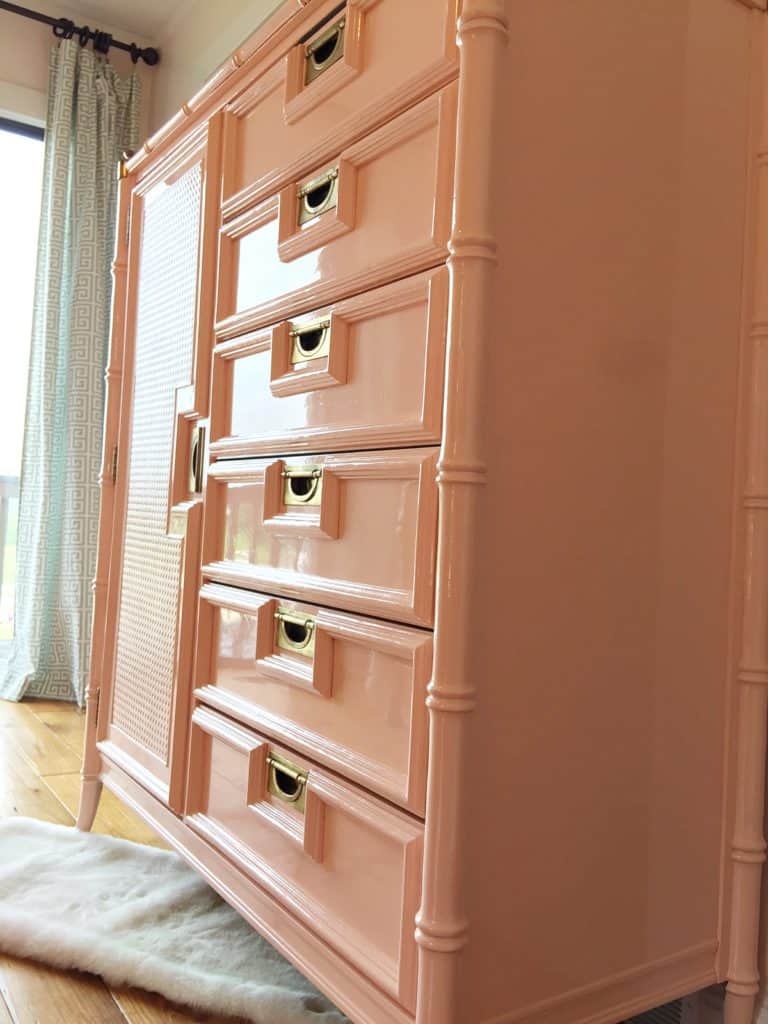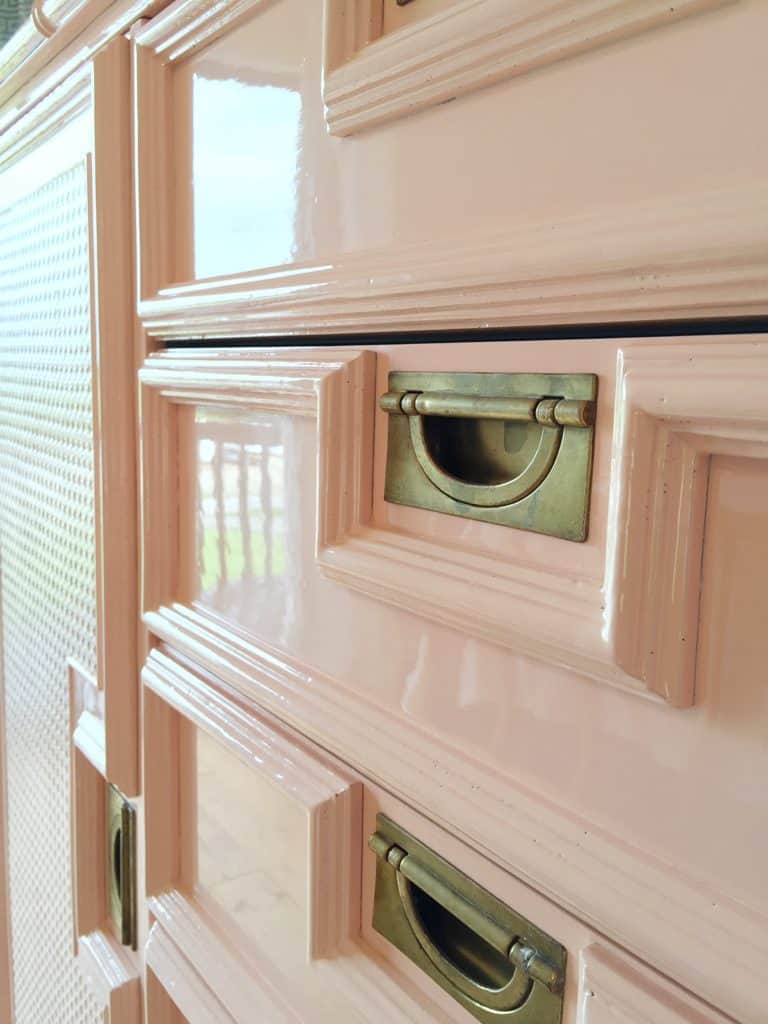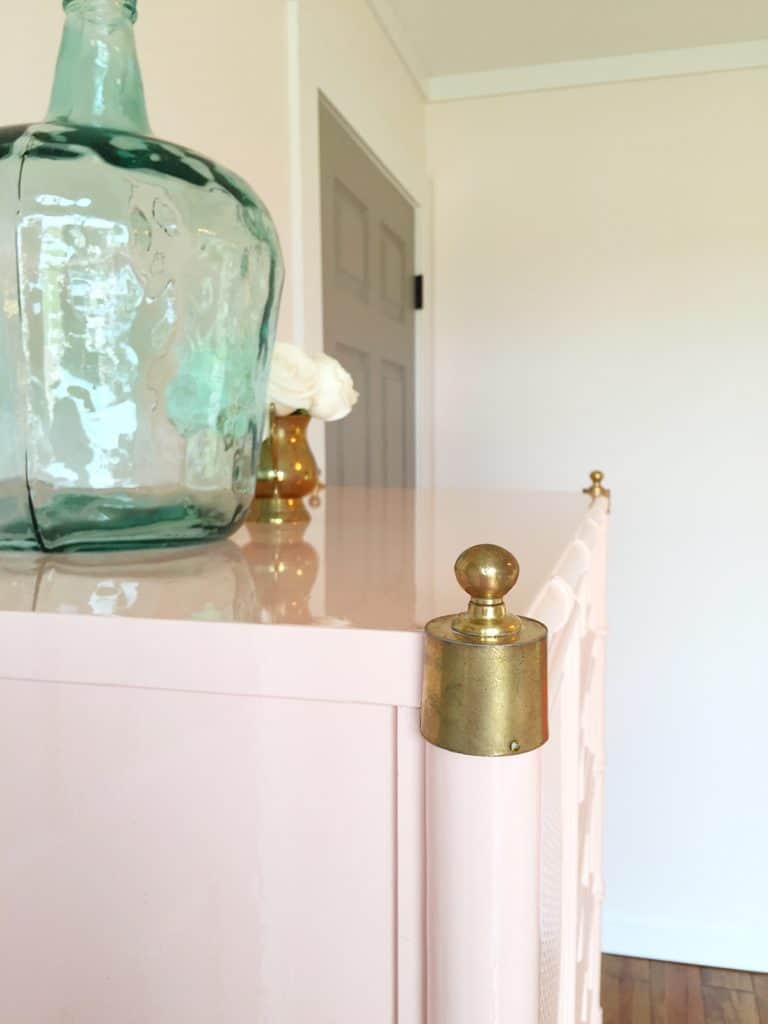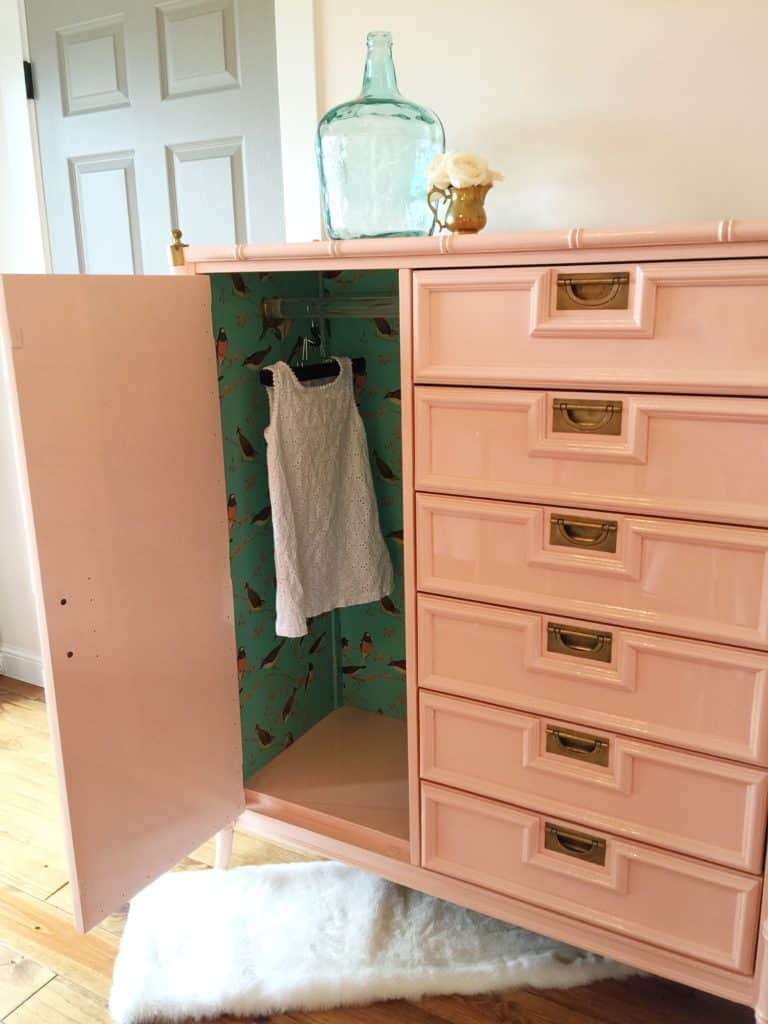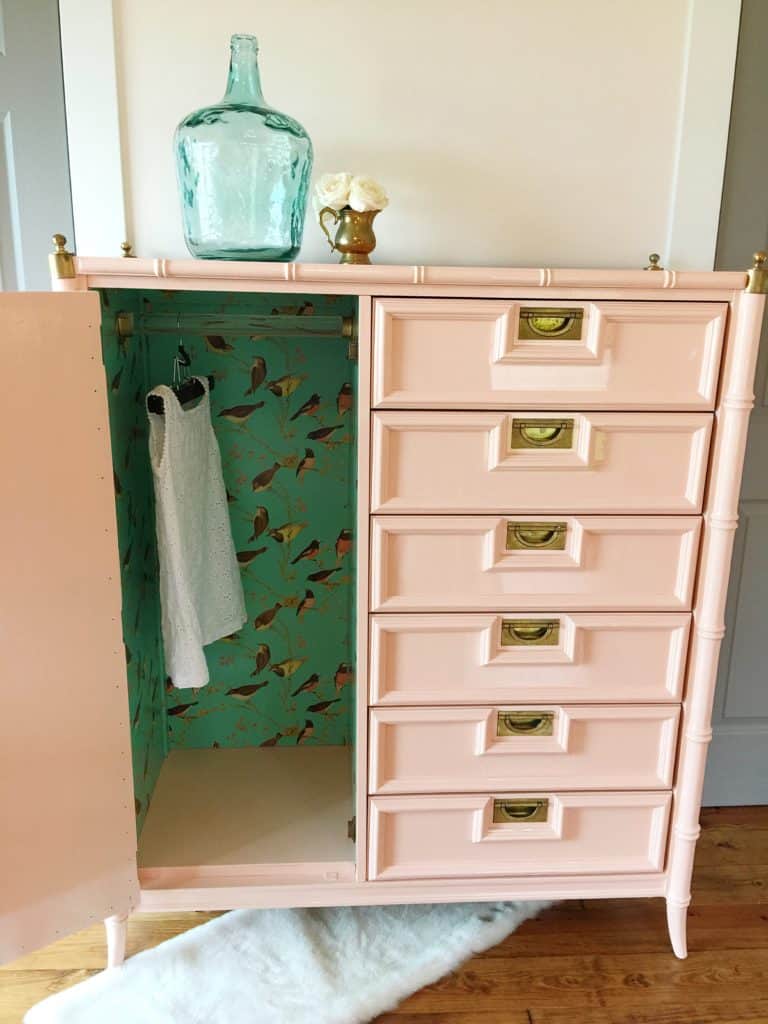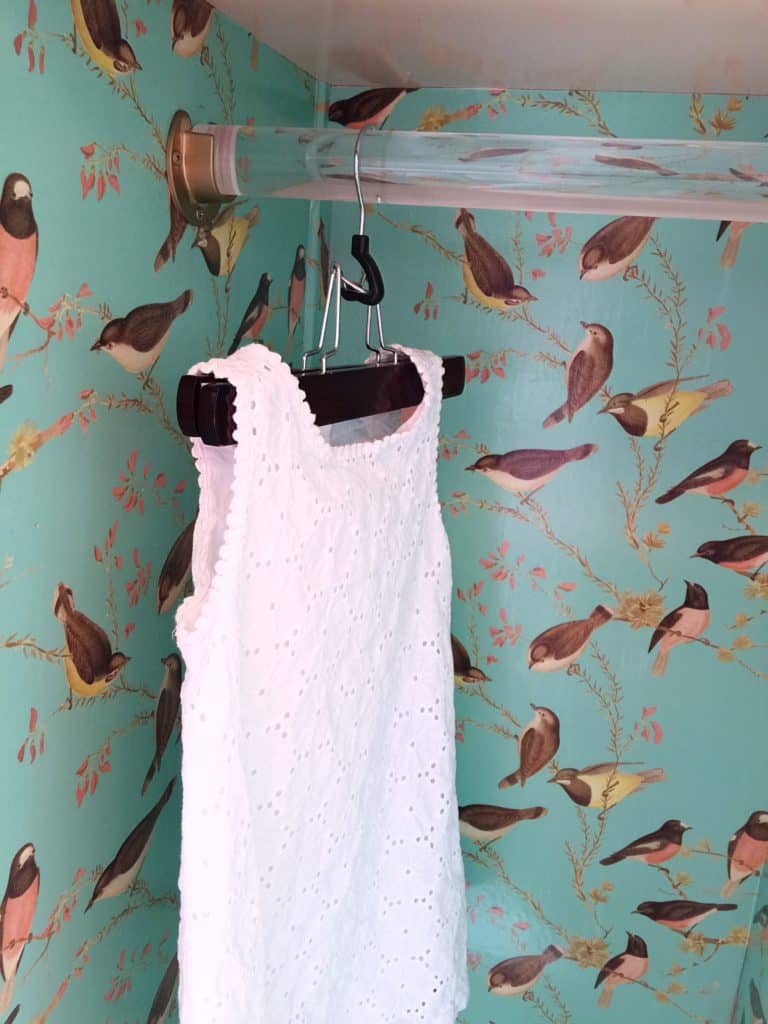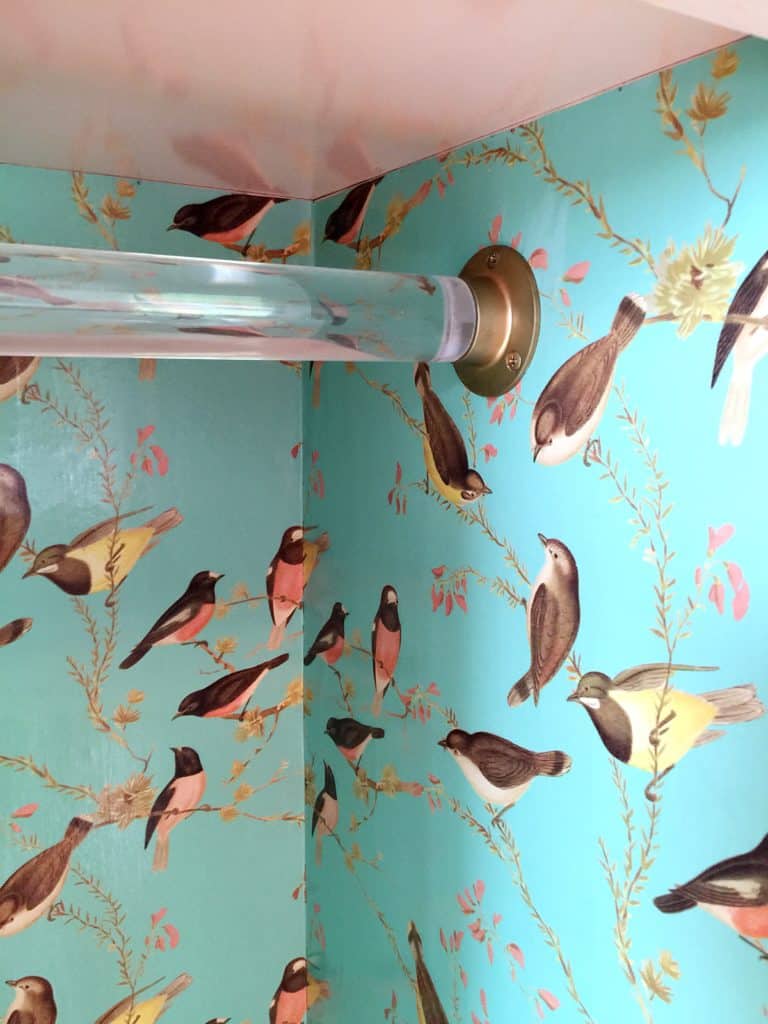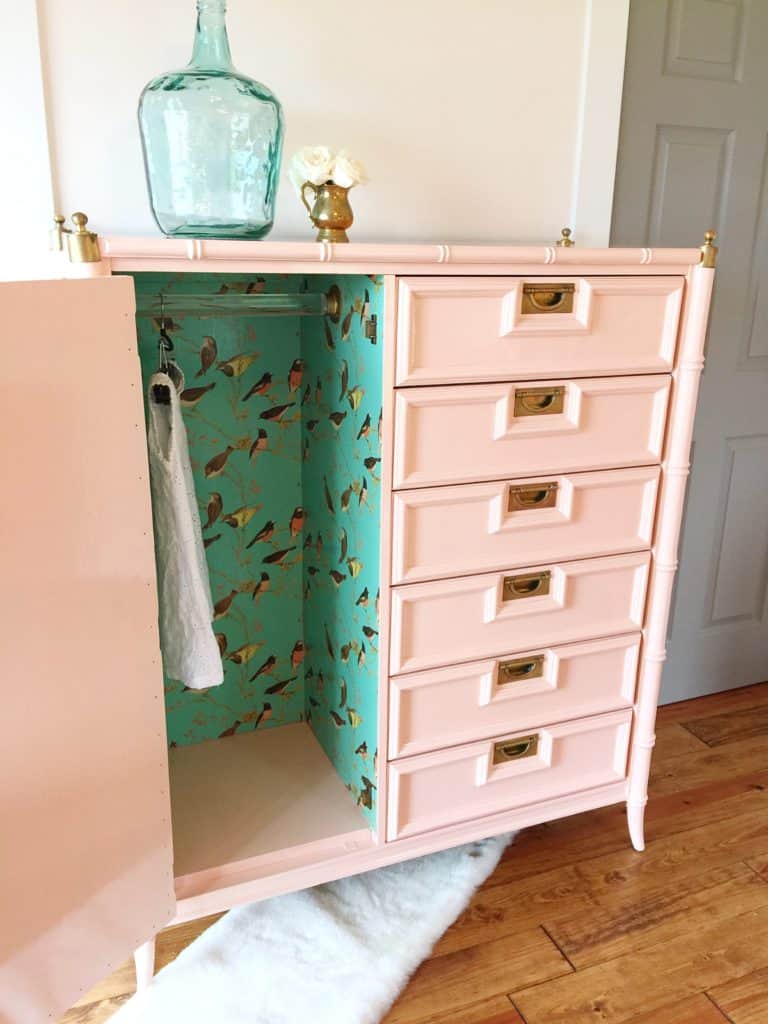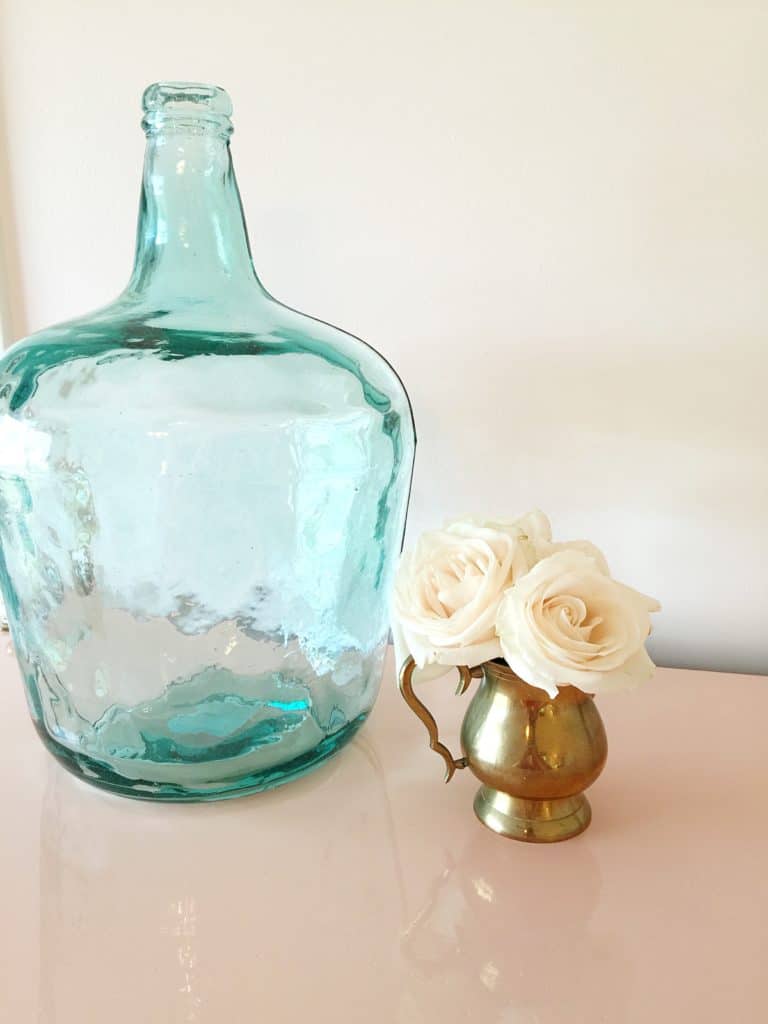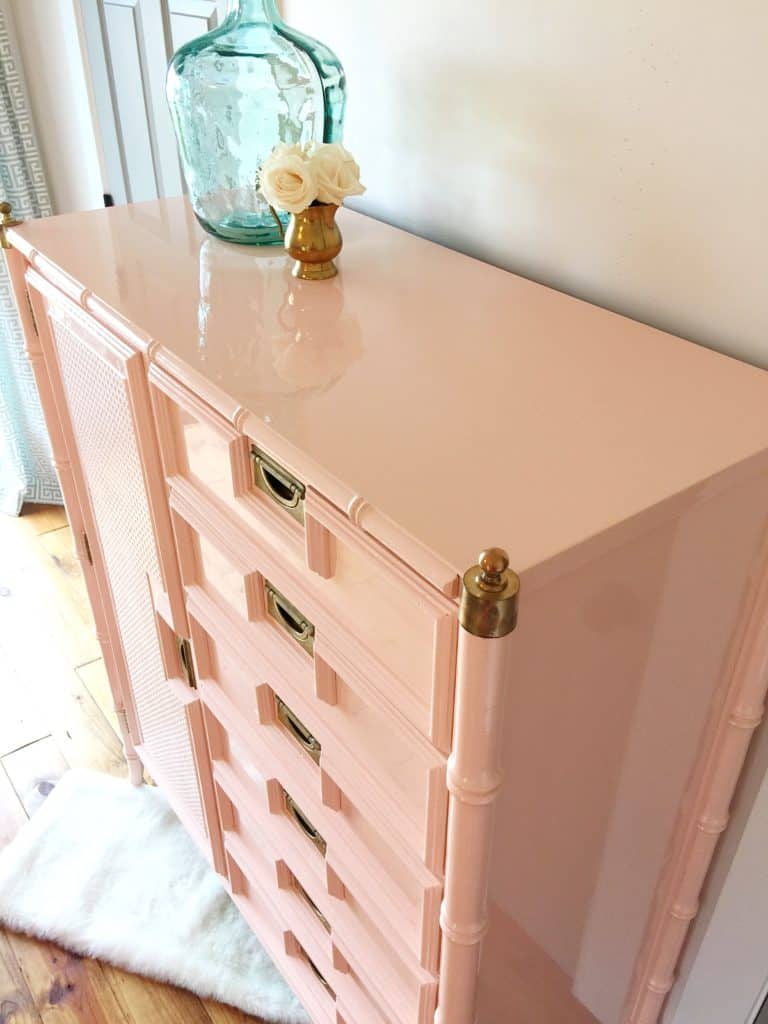 Well what do you think?  I was pretty pleased with the end result.  Thanks so much for reading!
If you liked this post, I think you'll also enjoy this one! xo