*Post contains affiliate links*
Alright guys, I've been working really hard on this project and blog post for you!  This will be my blog's first in-depth tutorial, eeeeep!!  For those out there who are interested in getting the most perfect, glossy (oil) paint finish, you've come to the right place:)  For those of you who couldn't care less about how to paint but just want to see some pretty before & after photos, you've also come to the right place.  So I'll start with the photos and if you don't care at all about how I achieved this paint finish then just skip over the remaining 1,000 words!
I bought this American of Martinsville faux bamboo china cabinet off of Craigslist last year.  I've declared my love for china cabinets in this post and my love for faux bamboo in this post.  So to have both of these items together, well, I just had to have it!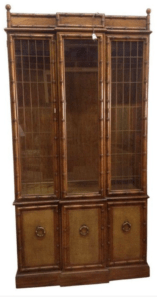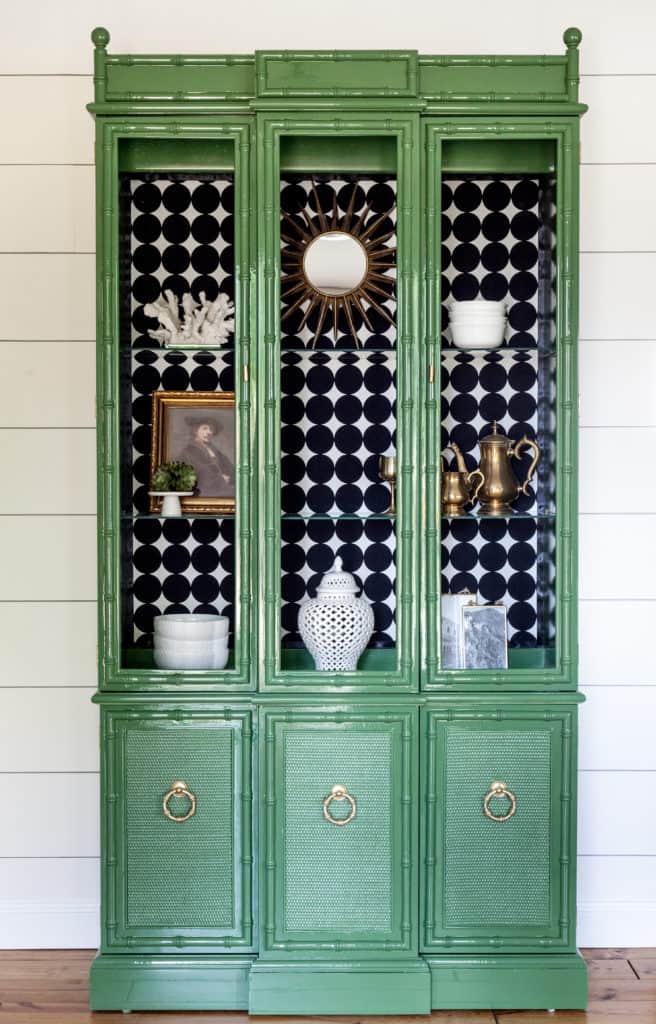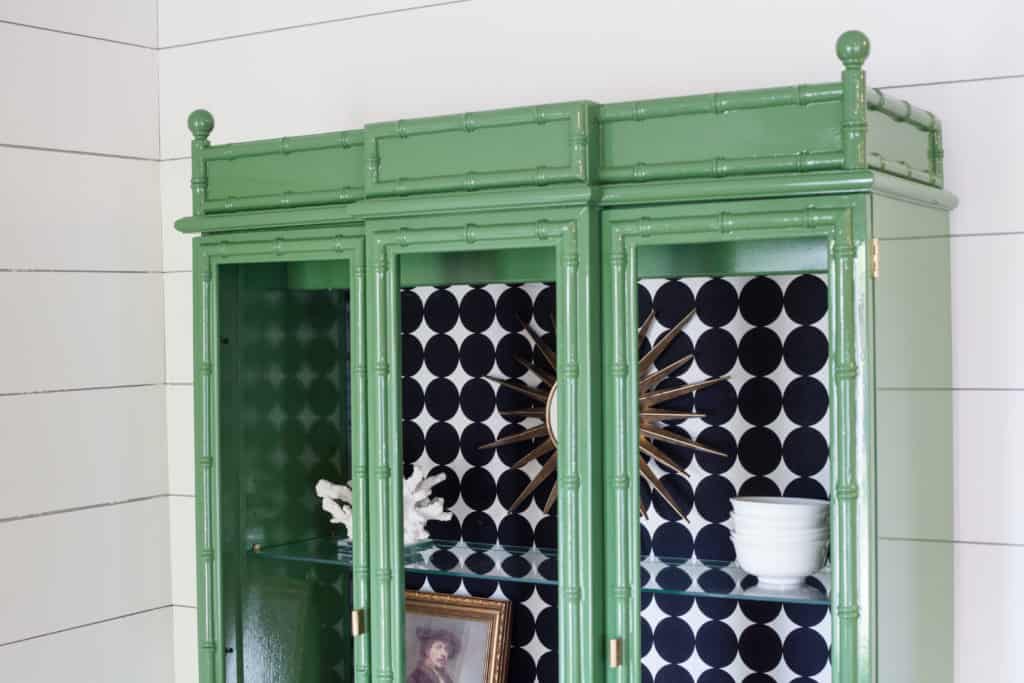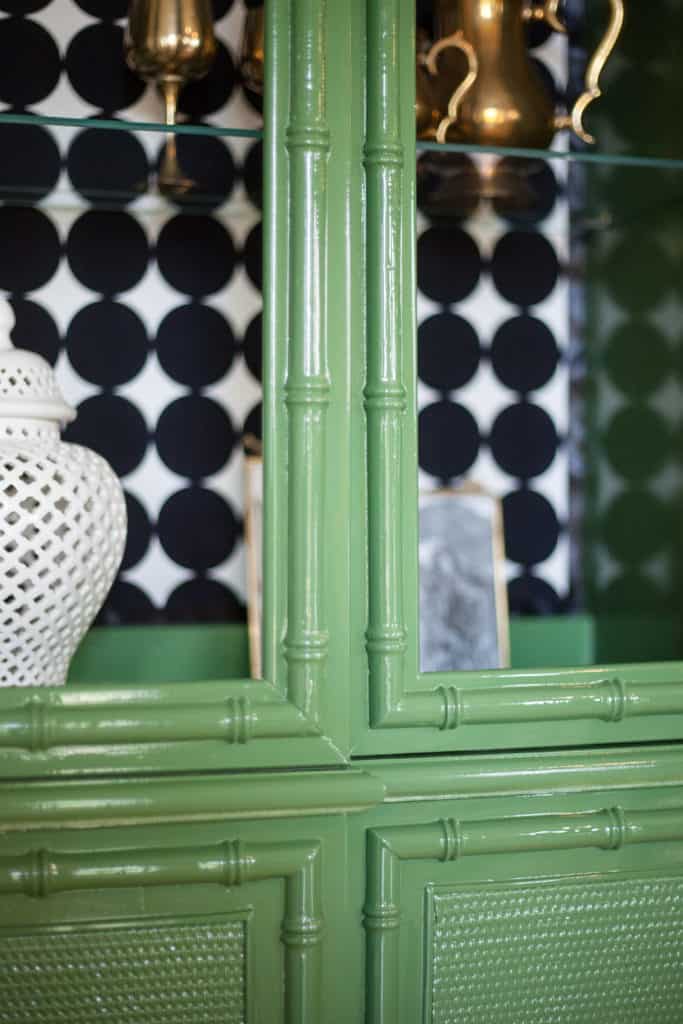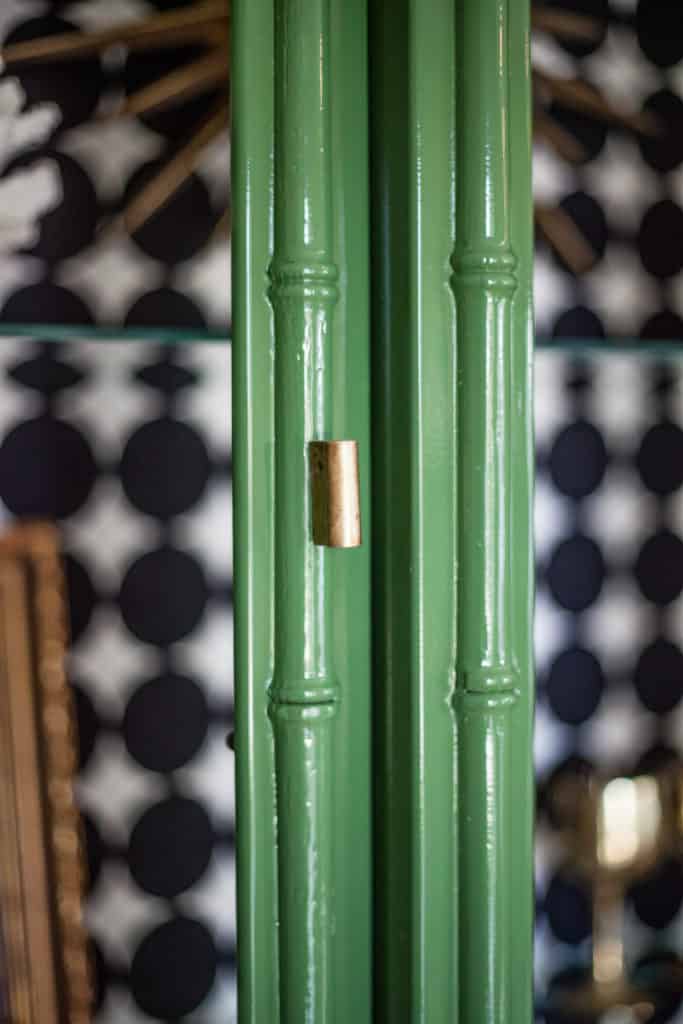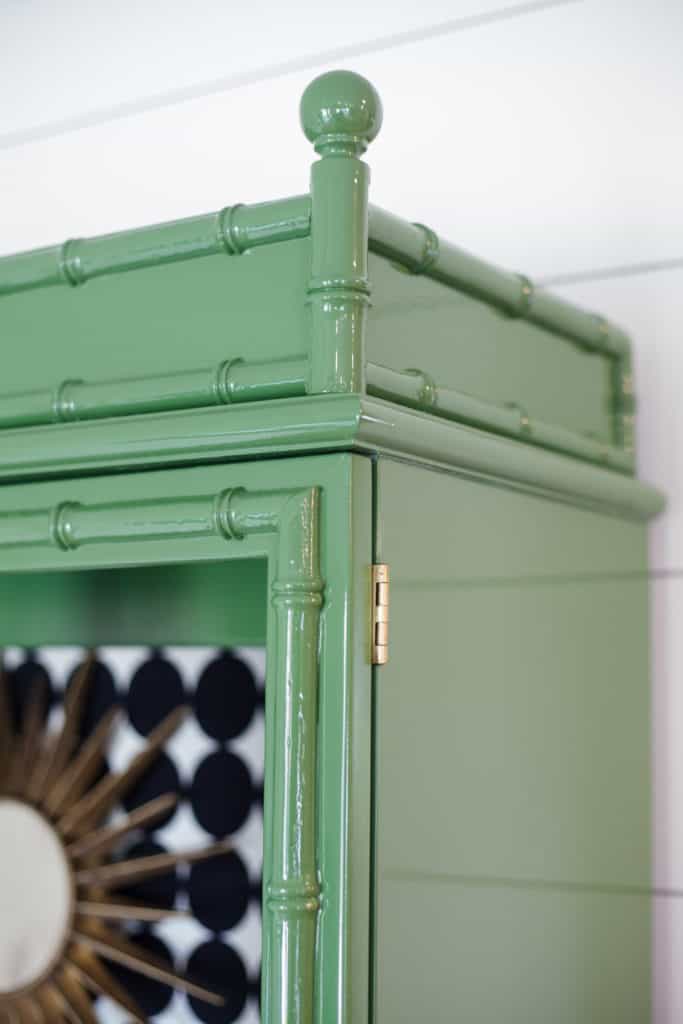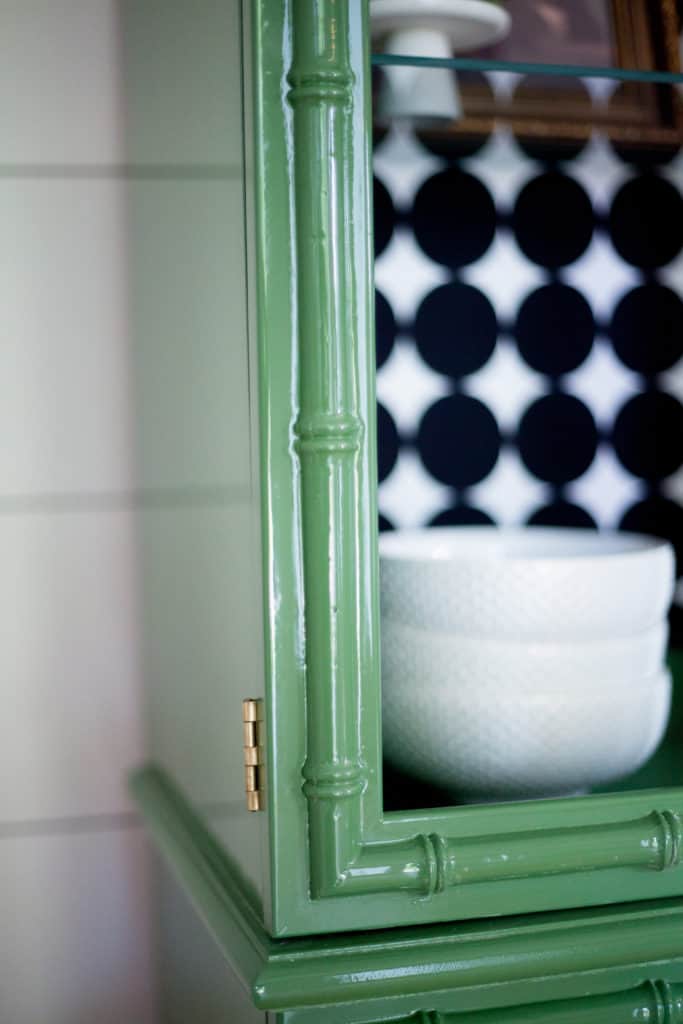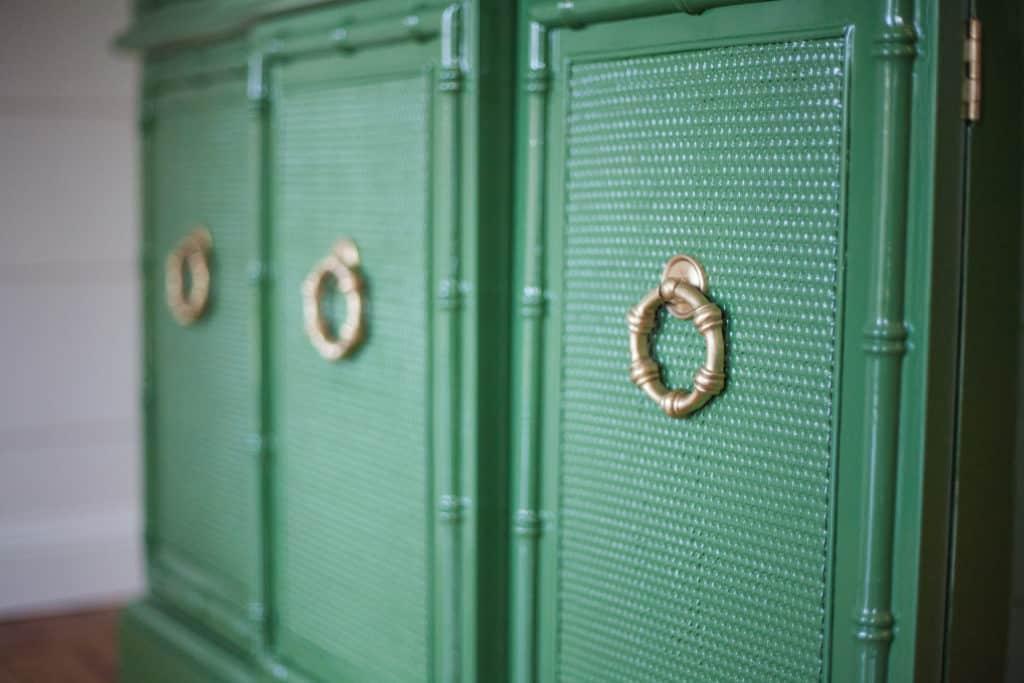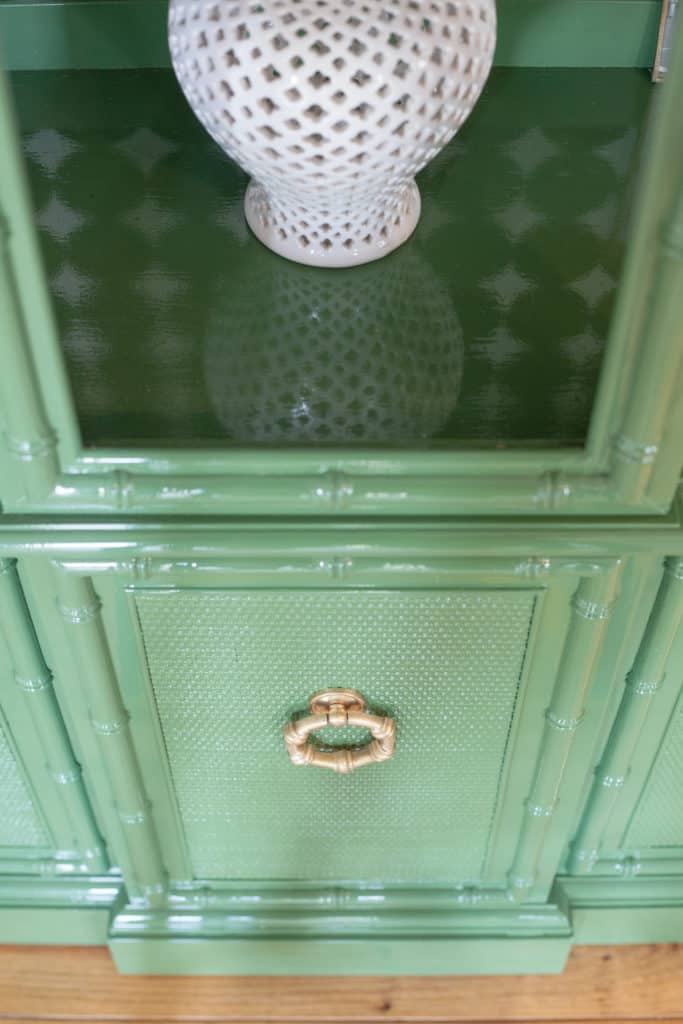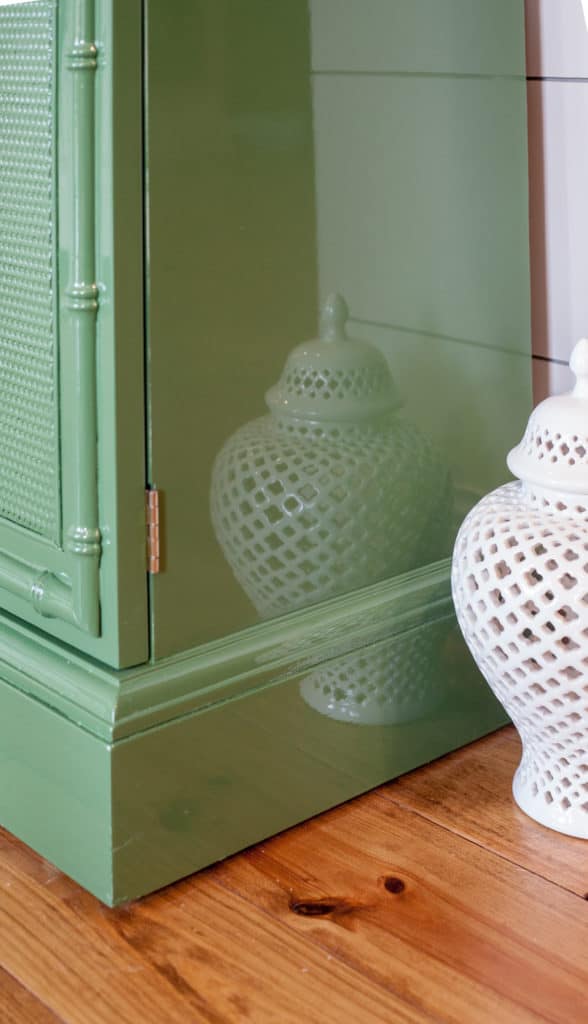 Statement piece of furniture for sure!  My brain told me to paint this in white in order to appeal to more potential buyers, but my heart insisted on green!  I chose Fine Paints of Europe Hollandlac Brilliant WC 60 for this guy.  Hollandlac Brilliant is a very glossy enamel paint!  Since today I am just sharing in depth about the final stages of the process, I'm going to take the liberty in assuming that you know the prepping and priming steps already.  In short, I sanded all surfaces with 220 grit then vacuumed the dust.  I sprayed Sherwin Williams ProBlock oil primer with my DeVillbiss Finish Line 4 HVLP.  When the primer was fully dry I sanded it smooth with 320 grit paper and again vacuumed up every dust particle.  After vacuuming, I used a tack cloth to further rid all surfaces of dust.  Then I moved the furniture into my enclosed spray booth and sprayed the FPoE Hollandlac.  I'll try to work on another post showing these steps more in depth as well.  For now I'm going to show you a step by step process of wet sanding and buffing out an oil enamel paint finish. You may be asking, "why is this necessary?"  Well, if you spray oil paints like I do, you're sometimes left with a lot of unsightly orange peel.  Orange peel in a paint finish is the bane of my existence!  Also, since oil enamels have such a long dry time (up to 48 hours!) dust and debris from the air lands in the wet paint leaving your finish with gross feeling particles on the surface.  Buffing out the finish will remove both of these annoyances leaving you with a smooth, mirror-like finish that you will be so proud of!  So here we go…
For sanding and buffing your finish, you will need the following:
Air Compressor with enough power and volume to run the DA sander
a bucket of clean water with a tiny amount of dish soap added
clean rags
Before I get into the steps of sanding, I need to tell you that this will only work on completely flat, smooth surfaces.  You cannot use a DA sander on carved or intricate areas.
How to wet sand an oil enamel painted surface:
Once your enamel paint has had ample time to dry and ONLY after it's dry can you begin the sanding process.  This particular piece had over 48 hours to dry.  Fill a bucket with several inches of clean water and add 1-2 drops of dish soap to the water.  The soap acts as a lubricant between the sandpaper and paint surface.  Throw all of your sandpaper into the bucket. 
Make sure the surface you are about to sand is free of dust and debris.  Attach your 1,000 paper to the DA sander and lightly wet the surface of paint with a wet hand.  Set your PSI to 150 and begin sanding.  It's very important to keep your sander 100% flat on the surface at all times.  Do not rock the sander up on the edge no matter what!  Using even, medium speed passes, sand an area roughly 1'x1′.  You will just need to use your own discretion to determine how long to sand.  The easiest way to tell will be, if you've not sanded enough, the surface will still be very glossy and if too much, your primer will show through!!  If you sand too much and your primer shows through, then you will have to completely stop what you're doing and repaint!!!  So, heed this warning, start out easy because you can always sand more.
Turn the sander off and wipe the area you just sanded dry with a clean rag.  You'll begin to see where the sanding has taken off the sheen of the paint.  In this photo you can see the top area is where I have sanded the surface flat and the small "dotted" looking strip is where the orange peel is not completely sanded flat, and the bottom area hasn't been sanded yet. 
Re wet your sandpaper and paint surface and keep sanding the surface until all of the sheen is gone and you have a uniformly dull surface.
Change your sandpaper to 1,500 and sand all of it again.
Change to 2,000.  Repeat
Change to 3,000.  Repeat
Dry all of the area really well then look at the surface from all angles.  It should look all flat, even and uniformly smooth and dull.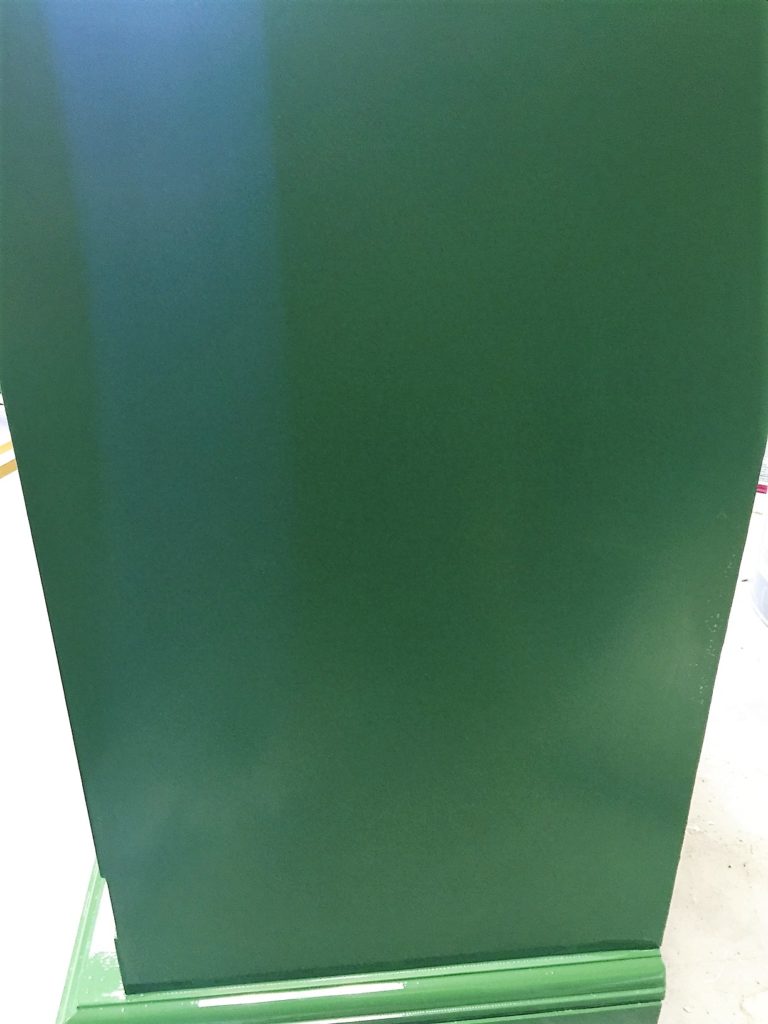 Once you've sanded your entire piece, you move onto the polishing process to bring back the gloss.
Ensure your piece is totally dry from the wet sanding
Attach a clean foam compounding disc to the buffer and add a small amount of Rubbing compound to the disc or to the surface, either way will work fine.
Tilt the buffer on the edge, turn it on and make quick, even passes covering all of the surface area.  Make sure you keep the buffer in constant motion because it will quickly create a lot of heat from friction and you can potentially "burn" through your paint surface.  You just need to buff until your compound is gone.
Wipe any remaining rubbing compound residue with a clean dry cloth.
Take off the compounding foam pad and put on the second, clean foam pad for your machine polish.  IMPORTANT: Do not use the same foam pad for the different compounds!
Add a small amount of the Machine Polish to the pad or to the furniture surface.  Follow the same steps as before with Rubbing Compound. 
Repeat the same action as I stated in step number 3. After this step you will immediately see the gloss is back!
The last step is to remove the second foam disc and attach a clean Ultra Fine Polishing pad, add a small amount of Ultra Fine Polishing Compound and do the same exact process one last time.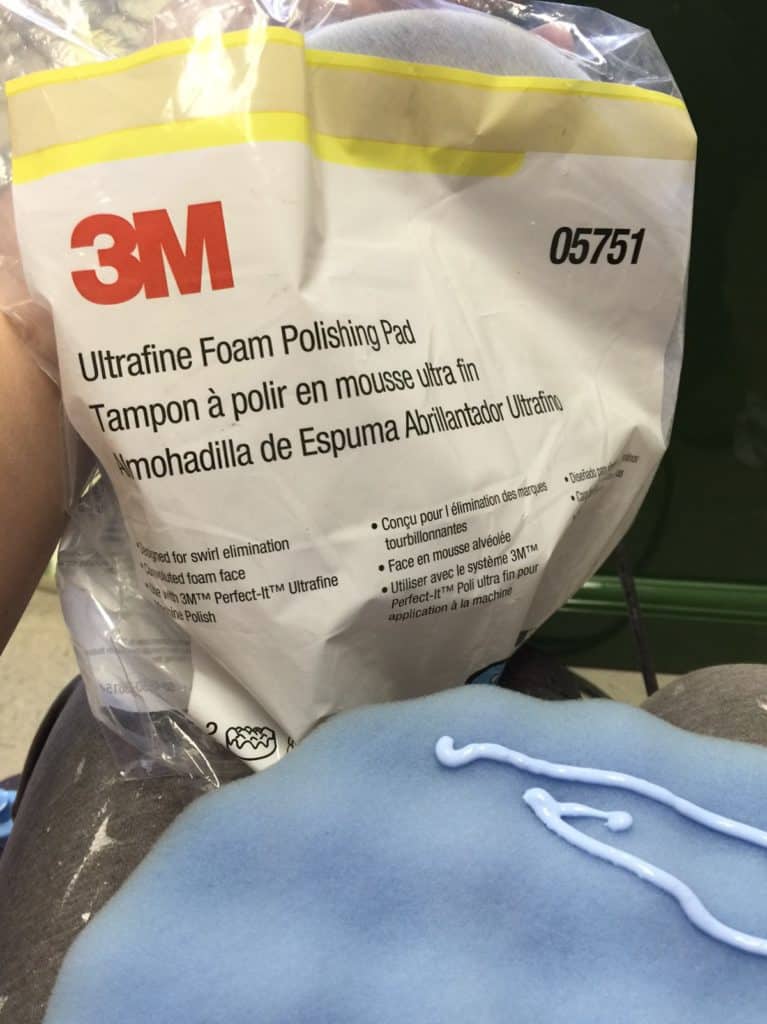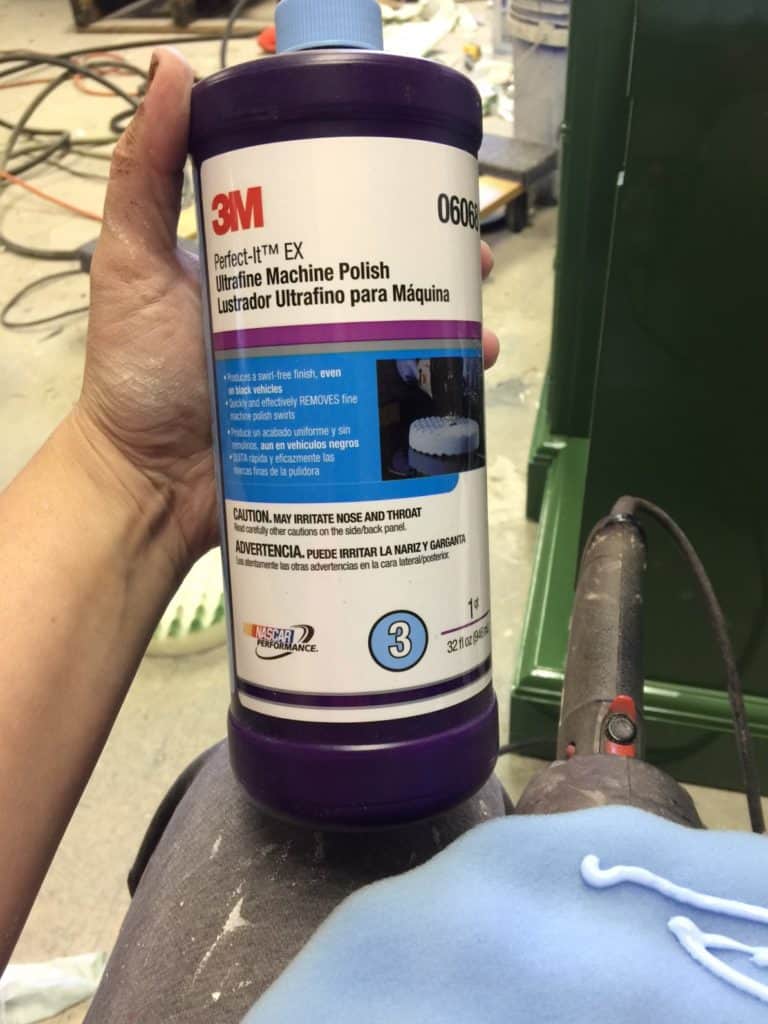 Okay!  Once you successfully complete all of these steps, you should have an end result like this: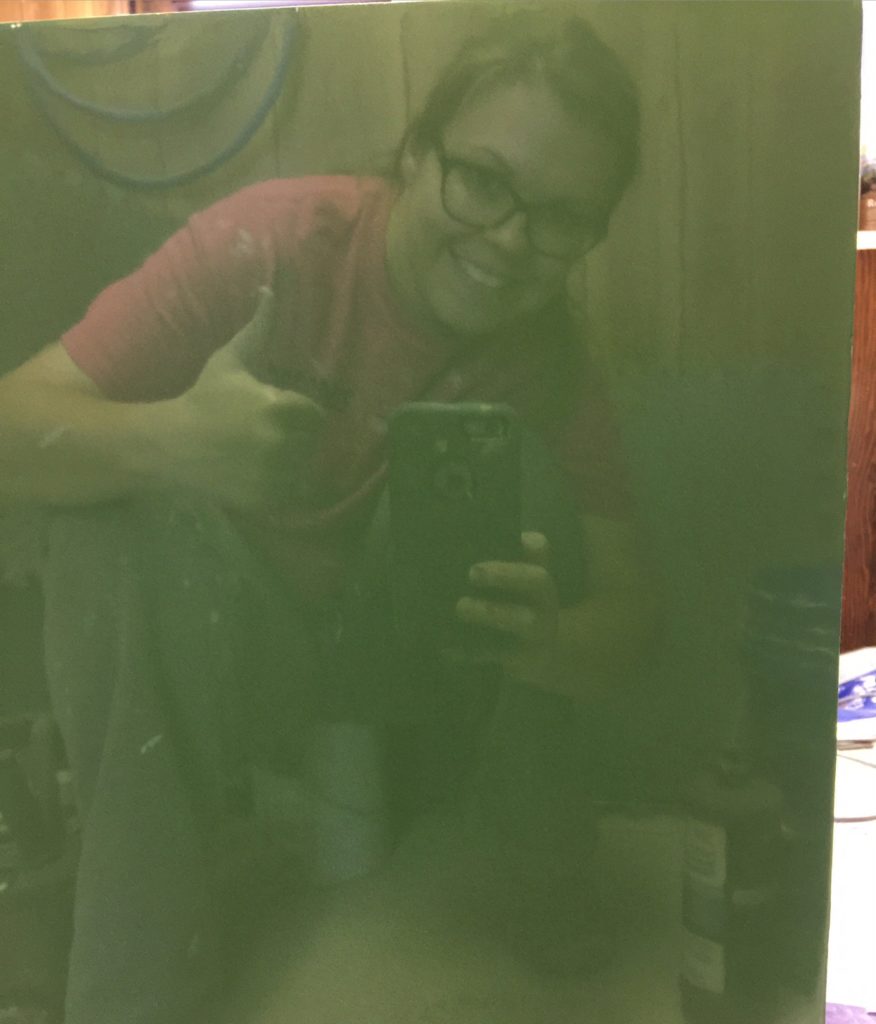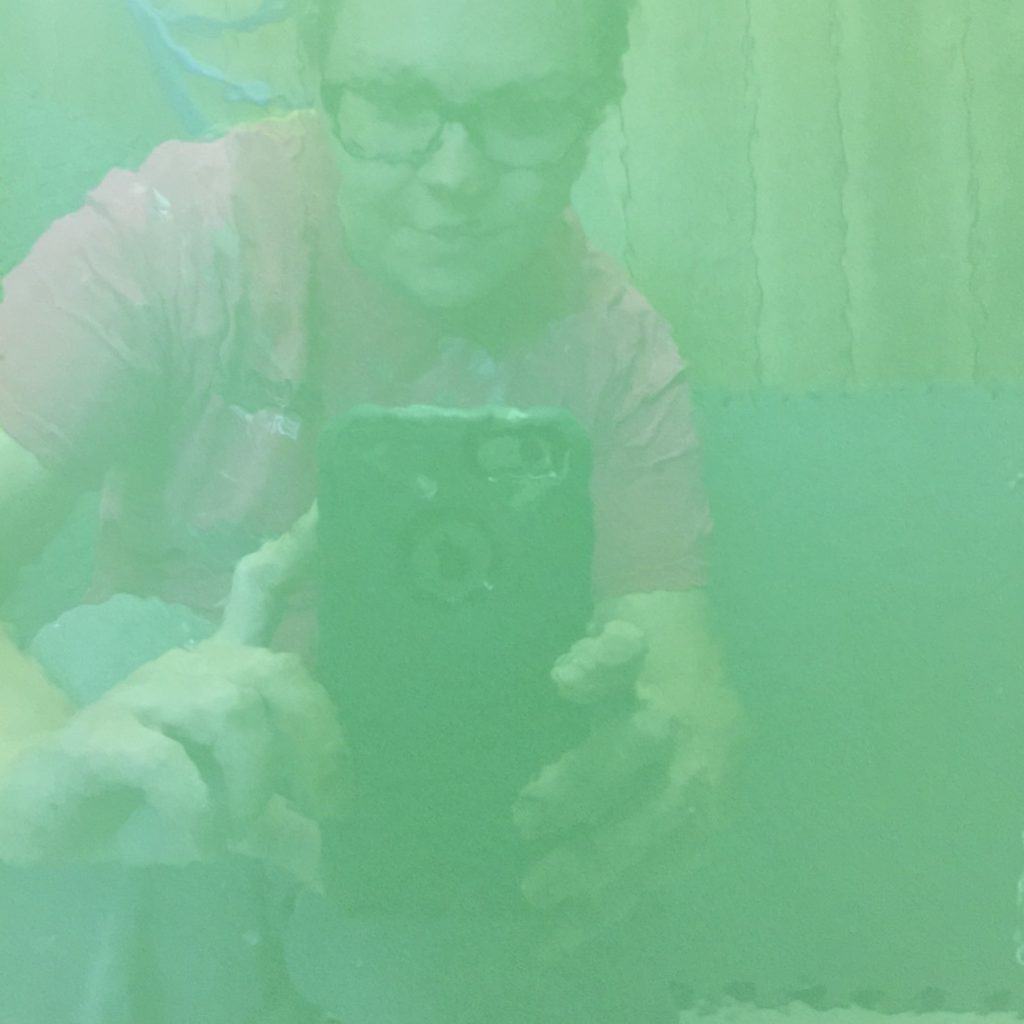 Please Note: The sanding and polishing does NOT change the color of your paint…the reason the color looks different in these two photos was only due to the lighting.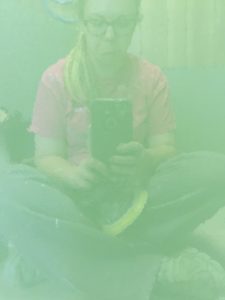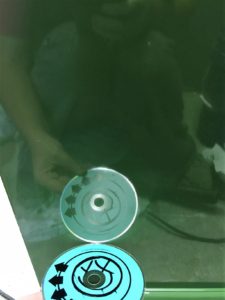 Anyone still reading??  Ha!  As you can probably gather, this isn't a project I would recommend for a beginner painter or a painter with only brushing and/or rolling experience.  There's a steep learning curve, and I have a lot still to learn.  My spraying, sanding, buffing and polishing skills are so far from perfect!  You can check out the photos in this post to see some more after pics because I did this process to the Henredon Dresser. If you want to gather even more information from far more experienced painters than myself I would suggest watching hours of car painters on youtube like I have done!  Ha!!
If you are a furniture painter using high gloss oil enamels and you've been searching high and low for a way to get better finishes, I hope this post will help you out!  Also, one more thing because I have a feeling I will get this question a lot….to my knowledge, this process will not work on any water or latex base paint finish.  I've never tried to sand and polish a water base paint…..I can't imagine it would work, but if anyone out there has first hand experience otherwise I would love to hear about it!!  Well, that's it for this post.  If you have questions, leave me a comment, and I'll do my best to answer.
Update as of 12/17!! **I'll let you in on a little secret…Plans for filming a full, in-depth tutorial on spraying high gloss enamel AND wet sanding/polishing is in the works!  Sign up for my newsletter  (when you sign up, you'll receive my supply list!) and you'll be the FIRST TO KNOW all the details!!**
Want some more insider info?  I've created a VIP Painting Club called Painting With Kayla!  CLICK HERE to learn all about it!  I promise, you're not going to want to miss this exclusive, informative and FUN group!!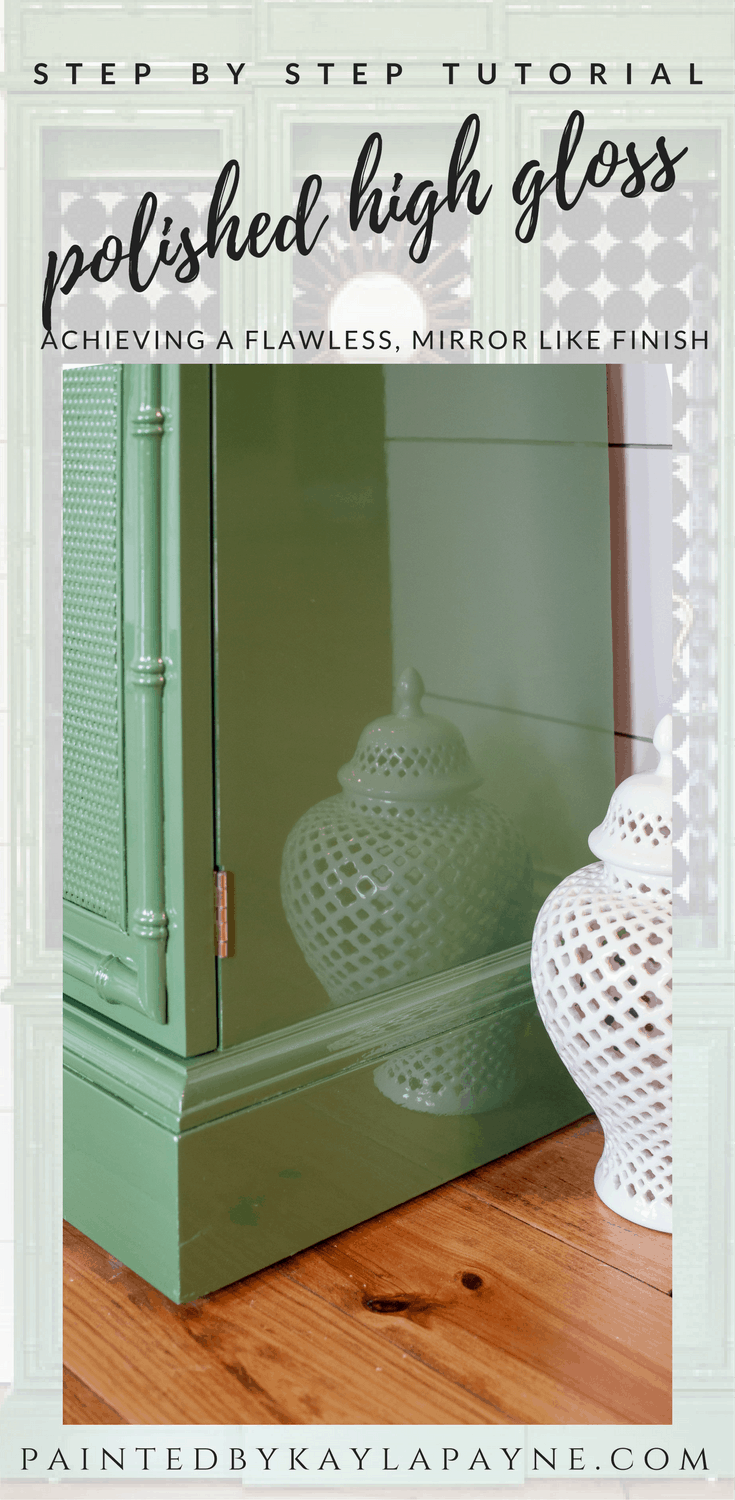 SaveSave
SaveSaveSaveSave
SaveSave